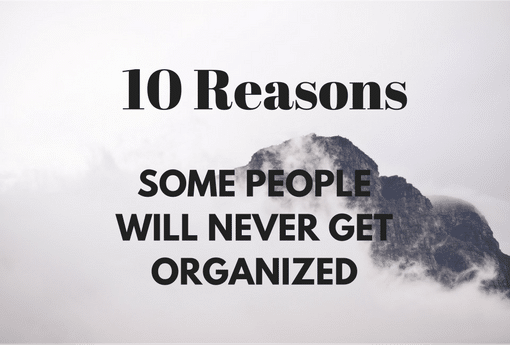 Have you ever noticed how some people never seem to make any headway with organization?  If you're like me, you sometimes get discouraged at your own lack of progress.  So what is it that seems to hold us back year after year?  At lifehack.org,  Kayiba Mpoyi gives 10 reasons why some people will never succeed.  Let's take a look at how these might apply to organization.
1. They don't understand the value of time
When it comes to organization, you actually have to put in the hours to make headway.  You can't just be hit-or-miss.  You need to block off time to dedicate to your organization projects.  When we set goals year after year, but fail to take action, we don't make any progress.  Decide now that you are going to be serious about using your time to get your house in order.  Take the time to develop skills in organization and map out exactly when you will work on your goals.
2. They don't do things that align with their goals
If you really want to create order in your home, you can't waste your time being "busy."  You need to be productive.  Don't just shuffle piles around.  Work on getting your laundry system running well, not putting cute labels on your baskets.  You have to pay attention to what you actually spend your time doing and make sure that your efforts are going toward high-level organization systems in your home.
3. They Never Step up to the Plate
This really has to do with "owning" the work you do in your home.  Even if you have small children and a spouse that doesn't help, it doesn't mean that you have to do a lousy job.  Decide that you deserve a well-ordered home and that you are willing to work for it.  Decide that you will be excellent.
4. They have self-imposed limitations
"I wasn't born with an organizing gene," "I've always been messy," "I hate housework."  Don't put yourself in a box!   You need to embrace the fact that you can learn to organize your house.  You can keep it clean.  You can choose to do these things, even if they are hard for you.
5. They are good at making excuses
Oh, aren't we just the best at making excuses for why our house is a mess!   When we lack imagination, we get stuck thinking that our current reality is all that can ever be.  We focus on all the reasons why this will never work and how it will never change.  We need to stop making excuses and start believing that things can be different.
6. They lack class
A classy home doesn't have to be expensive, but it does need to be inviting.  Some people really know how to make a house a home.  You want your home to be inviting and comfortable, and that means you have to have a certain level of sanitation and order.  Don't let the crumbs and dust pile up.  Don't throw stuff into a jumbled heap.   Learn how to keep your home with grace.
7. They are Procrastinators
Procrastination is putting off until later things that you should be doing today.  Listen up: you don't get a "do over!"  You only get this one life, so make the most of it.  You live in your house right now, this minute.  If you don't take action, nothing is going to change.  Do you want to spend your entire life with your house just like it is?  You know you want something better, so start right now.
8. They Don't Take Action
Do not underestimate the importance of this when it comes to your home.  If you don't do something, who will?  You're house will not magically clean itself.  Don't spend another moment on Pinterest dreaming about your ideal home.  Start making your house your ideal home!
9. They Can't Face Adversity
Getting your house organized is a big task.  There will be setbacks.  It will take time and effort.  It will be hard at times.  You can't just give up the first time you get tired or overwhelmed.  Overcoming challenges will help you get to your goal of a well-ordered home.  But even more, it will transform you along the way into a person who is organized.
10. They are Apathetic
Don't give up and not care about your home.  Stand up for order.  Put some effort into how you present your home to yourself, to your family, and to others.  You matter and so does your home.  It is so worth it to learn how to organize so you can live in a space that brings you peace.