Serious decluttering requires the right tools. If you're going in for a deep declutter, you'll want a list of supplies to have on hand. Here is a checklist of all the things you'll need before you start. You can get a printable version of the Best Declutter Supply List here.
Declutter supply #1: The Apron Arsenal
The first thing you'll need is a kitchen apron with big pockets. I can hear you now, "What?!—An apron? —Get real!"
I know—but hear me out. An apron helps keep your clothes clean. The big pockets are handy for stashing those tiny items you find like money, screws, and unidentified parts.
An apron can also help with mindset. It's like a "uniform," so when you have it on, it tells you that you're on the job and need to stay focused.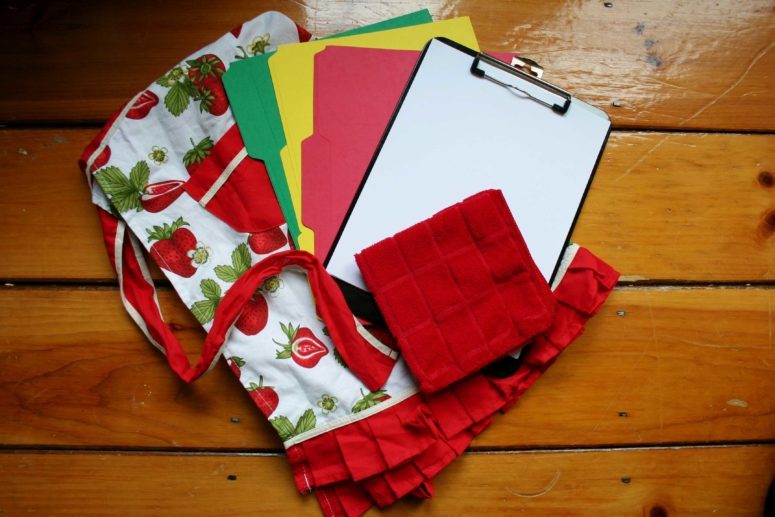 Besides stashing little, found objects, apron pockets are also handy for holding these essential tools:
permanent marker (for marking boxes)
pocket knife (handy for opening boxes and plenty of other stuff)
dust cloth (decluttering is surprisingly grubby)
cell phone (for checklists, notes about things, scheduling tasks, music!)
pen and a pad of sticky notes (for temporary labels)
Declutter Supply #2: The Toolbox
Besides the supplies in the apron pockets, it's handy to have a small box with a few other frequently-needed things. Ideally, it would be a small portable file box so you can stash some hanging file folders and a clipboard. But you can use whatever you have. In here, put the following:
label maker (seriously, you need one of these!)
file folders (temporary paper holders/sorters)
scissors
tape (for keeping small extra parts attached to the main item)
clipboard (with your declutter plan and Declutter Decision Maker)
paper clips (big ones)
a few baggies (to put little items in or to keep parts together)
If you are sorting a lot of papers, you might also want these in your box:
stapler
file folder labels
3-hole punch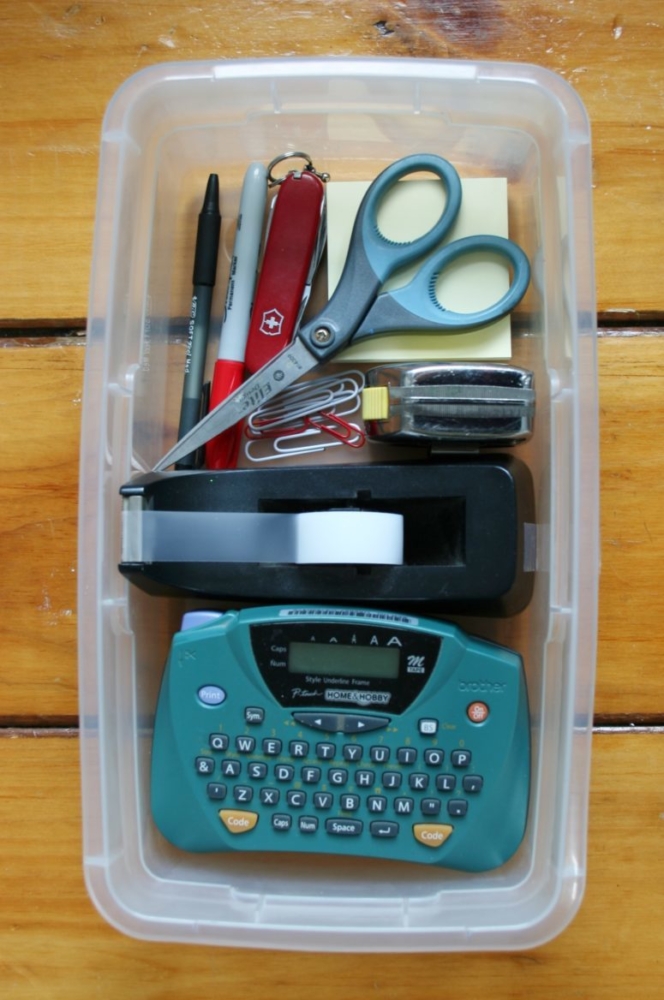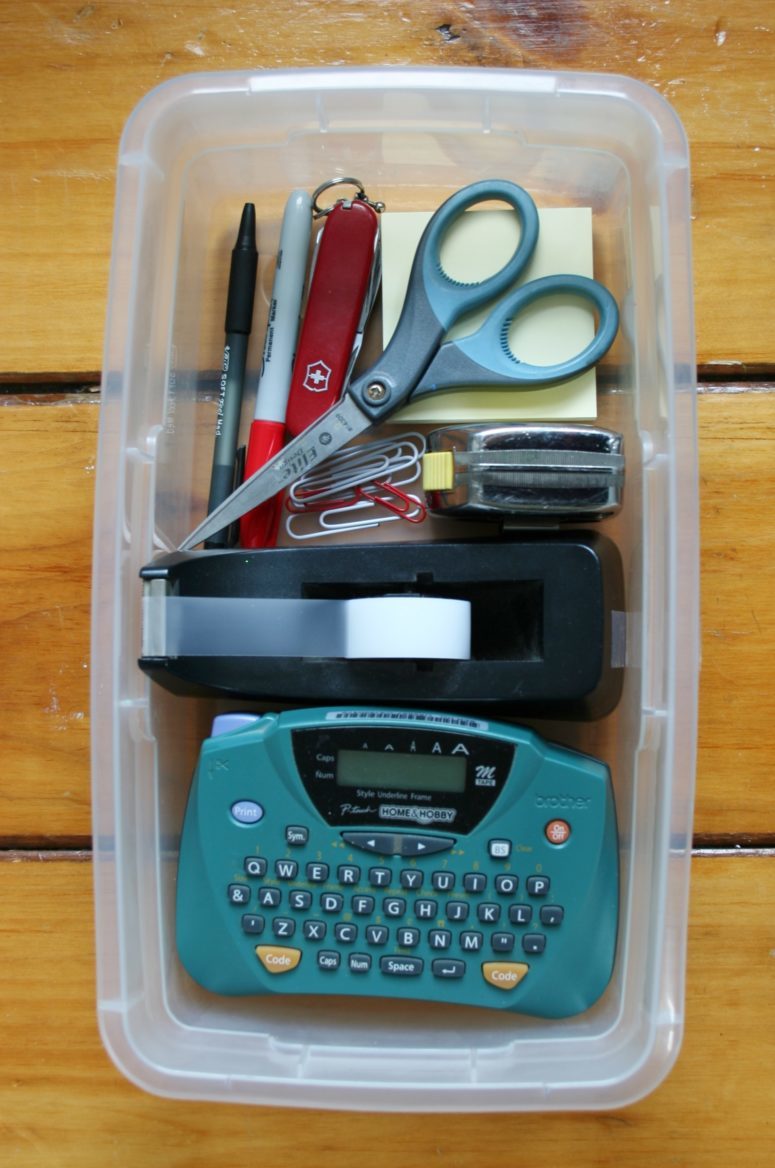 Declutter Supply #3: Other Essentials
Here are a few other things you'll want to have nearby:
a timer (you can use your watch, cell phone, the oven timer—whatever!)
dust buster or vacuum cleaner (for banishing crud and dust bunnies)
water bottle
snacks (chocolate, anyone?)
motivational music!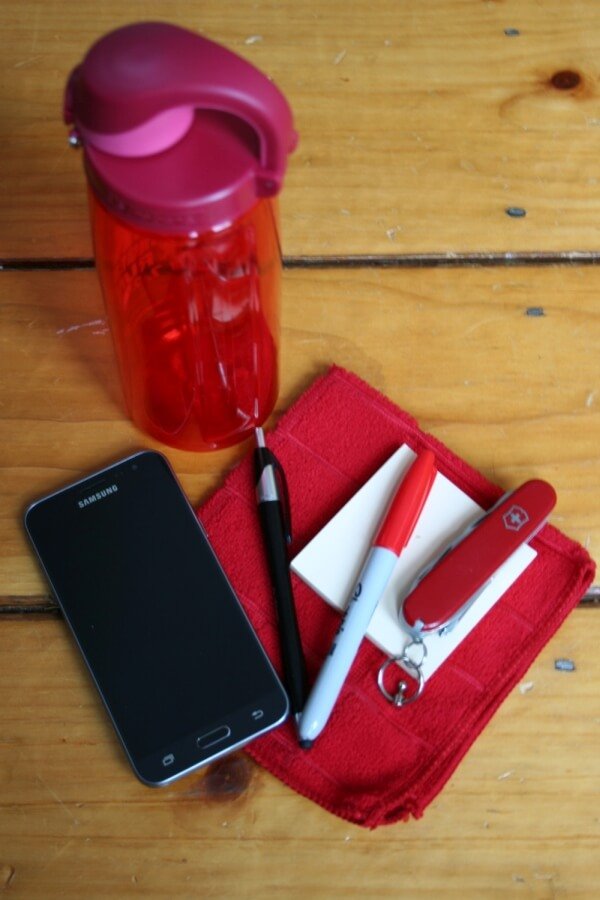 Declutter Supply #4: Containers, Containers, Containers
If you're working on a big area you'll need the following containers on hand:
Recycle/trash bins: for the obvious. Note: it's easier to use trash bags if you have a trash can.
Laundry basket: ideal for items that belong somewhere else (handles make carrying easier)
Boxes or bins: this is where you put "homeless" items and other things you just can't deal with at the moment (these will become "project" bins because you will eventually need to do something with this stuff)
More boxes or trash bags: for stuff you want to donate or sell. Boxes (or trash bags) that you don't need back work best.
Declutter Supply #5: Printable Declutter Supply List + Declutter Decision Maker
Print out this Best Declutter Supply List. You can also print out a copy of this Declutter Decision Maker. It will help you quickly make decisions about what to keep and toss.
There you have it! Next time you are working on a big decluttering project, use this Declutter Supply List as a checklist to gather up your supplies before you start. And don't forget the apron!