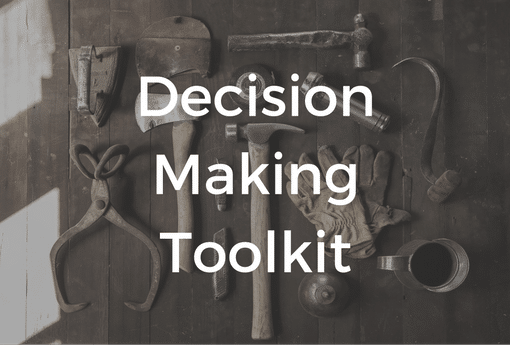 So far, we have covered 5 reasons we make piles, and we took step one in demolishing the pile.  Now we've reached step two which involves decision making.
Decision making is really hard!  But it's even harder when you are faced with a huge pile filled with many different kinds of things.  In my piles, some things are there because I am not sure what value they have.
Obviously, I think they might have value or they would just be trash. So how can I figure out if something is actually of value to me? I need a guide for e-VALUE-ation.
Step two: evaluate the things in your "decision" box
1. Perfectly good stuff
Some things are still perfectly usable, but probably not by me. I have a hard time letting go of things that I spent time making, but didn't use (Oh, the wasted hours!).
When my kids were kindergarten age, I spent a lot of time printing, coloring, laminating, and cutting things out to use in our homeschool (you would have thought I was making stuff for an entire kindergarten class!).
So much of that stuff they used once or not at all, so it was certainly still useable.  But my kids outgrew it.
Eventually, I gathered up all the stuff that my kids had outgrown and passed it on to some other homeschoolers who were just getting started.  They were thrilled to get all my amazing stuff!
Giving things away to someone who really needs it can ease the pain of letting go of something that you worked hard on but no longer need.
Point #1: If the item is still usable, but not something you need any more = give it away to someone who would like it (or sell it).
2. Product vs. process
School papers are hard for me to sort through because, again, we spent time and effort making them, so they seem valuable to me. But really, most of the value is in the process, not the end product.  Separate the value of the process from the product itself and let the paper go.
Getting rid of the paper in no way diminishes what my children have learned.  But it will make our space more productive and useful if we don't have piles of old papers around!
Think of it like food: totally needed and useful, but once you have digested it and taken the nutritional value from it, guess what it is? Poop! That is what all this type of paper is and you don't need to live in a pile of it!
So, I had each child help me sort through a big pile of their schoolwork and art projects.  They were much better at discerning what was actually valuable to them.  They were not in the least interested in keeping all the scribbles and "babyish" art they did years ago (imagine!).
In the end, they each had one small bin of papers and art to keep.  Get your children to help you discern what is really worth saving for them.
Point #2: Old stuff that you have already "digested" = get out the "pooper scooper" and send it to the recycle bin.  Make space for new things in your life.
3. Reference materials
General information, articles, notes, etc. are also hard for me to deal with because they seem potentially valuable to me. It may be information I will want in the future, but I don't know how to make it accessible for the future.
Putting it in a pile is the least accessible it could possibly be, so this is NOT a solution!
Filing seems like a good way to keep it accessible for the future, BUT…the problem with filing is that I keep packing filed information away forever. I don't have enough room to file an infinite number of papers.
Fear of Missing Out is real.  I'm afraid that if I toss something, I'll miss out on something in the future.  It is a way of saying "no" to something, and that always means limitations.
Our culture does not encourage limitations.  There is a tendency to think that everything should be unlimited and that you should keep all your options open.
But when we try to do that, we end up so flooded and congested with stuff, we can't even begin to make any choices.  In a sense, we become a chaotic and undefined person because we cannot make any choices.
Take a good, hard look at what you want your life to be and start defining it by the choices you make.  Pruning trees makes them more fruitful, and getting rid of excess stuff from your life will allow you to pour more energy into the few things you really want to focus on.
Point #3: Pick a few things that you want to be the defining focus of your life at this time = prune the deadweight of stuff that no longer helps you.
4. Sentimental stuff
Finally, we hit the sentimental stuff.  Sentimental stuff includes photos, letters, artwork, journals, clothing, knick-knacks, souvenirs, gifts, things that belonged to your grandmother, and so on.
In some ways, these items are like a combination of items under Point #2 and Point #3.  These are things that have served a purpose in the past, like #2 stuff, but now it isn't actually doing anything except serving as a reminder of the past.
Like the stuff in #3, these are things that we tend to accumulate around ourselves because we think that somehow, we can define ourselves with it.  But you are NOT your stuff!  You are worth far more than a pile of objects, and those objects are not the real you.
I think it is especially important to get rid of the stuff that traps you in the past instead of living in the now and looking toward the future.
Point #4: sentimental stuff is not you = pick a few choice things to actually display or preserve, and prune down the rest (especially things that are negative reminders of unhappy things in the past!).
Need more help with sentimental items?  Read this post about What to do with Sentimental Stuff.  Otherwise, keep going with part 2 of How to Demolish the Pile.