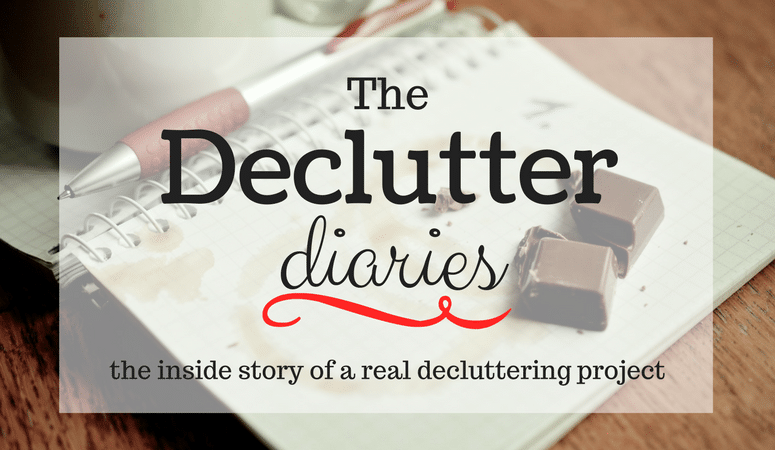 The Declutter Diaries is a series of posts I did for a former blog as a glimpse inside a real decluttering project [with occasional editorial comments from my present self].  You can start with Day One here.
---
Decluttering the car
Today I cleaned out the car.  This is one place that I don't really clutter.  Mostly I needed to vacuum, clean off some dust/dirt, and throw out a bit of trash.  I don't keep a lot of things in the car other than emergency car gear, a few papers in the glove compartment, and a blanket in the trunk.  I'd hate to be in an accident and have junk go flying every which way!  Besides, I don't want to be squashed in the car between trash and crud, with a trunk so full I can't even put something in it when I need to.  May this desire for a clutter-free existence in my car spread into my house…
Have you been using your car as a closet (or worse, a trash can)?  [This is another short post, so I will add some thoughts from the present.] 
What Can You Learn From Yourself?
You should consider if there is an oasis of tidiness anywhere in your clutter chaos.  If so, why do you think that is?  What enables you to keep that one thing clean and organized?  You might glean some insight that you could apply elsewhere.
I think there are several reasons for my tidy car.  One is that I always take everything out of the car when I get home.  I do not leave trash, shopping purchases, or other items which I brought with me in the car.  This kind of thinking would really help me in my house–don't put it down, put it away.  When I bring something new into the house, it should immediately be put away.  Trash should ALWAYS be thrown away *ahem.*
The Car is Not a Closet
The second reason is that I do not store things in my car.  The only things that stay in the car are permanent car tools and emergency items like jumper cables.  Let's face it, there isn't actually much storage in a car besides the trunk.  I know there are a few small spaces for things like sunglasses, change, and car papers.  But basically, a car is like a couple of sofas crammed in a closet.  If you want to sit in it (with your family), you just can't have too much else in there.
When it comes to the car (and my purse), I am oddly minimalist.  I don't want to carry around a ton of stuff with me when I go away from the house.  So I do not use my car like a closet or a giant purse.  I would definitely benefit from this kind of thinking in my house!  I don't really need to "carry" every possible item in my house.  It would be okay to allow minimalism to pervade my home.  (Can you have more minimalism?)
Avoiding a Messy Car
Finally, my car tends to stay tidy because we generally do not eat in the car.  Eating in the car is pretty challenging (especially if you are driving!).  There are no tables or napkins.  You are constantly in motion which requires a certain amount of dexterity and balance to avoid spills.  And there is no sink or garbage can, which means there is no obvious way to clean up when you're done.  This tends to mean a lot of crumbs, spills, and trash if you insist on eating in the car.
I know sometimes you can't avoid eating a quick meal between activities.  And I don't object to a beverage in the car (with a lid!).  But eating in the car does mean you will need to spend time cleaning up, just like you do after a meal at home.  If you ate at home and then just shoved everything aside, you would have a disaster in a very short time.  The car is no different.  You have to clean up after every meal you eat in the car.  I choose to avoid this by not eating in the car (mostly).
So what does that mean for my house?  Well, the biggest application is to use spaces as they were designed.  In other words, I should eat at the table, not on my bed.  And if I do choose to eat on the bed, then I still need to take the time to clean up properly, and not just shove things aside.
It would also be a good idea to make sure I have appropriate spaces for the activities I do.  One of my biggest challenges is that I don't have a dedicated office/workspace in my house.  So my bedroom does double duty.  Unfortunately, my bedroom doesn't really have the right storage setup to be a workspace.  For me, this leads to piling things and shoving things aside when it's time to go to bed.  I definitely need to give some thought to how I could improve the storage and workspace in this room.
How about you?  What ideas can you glean from those tidy spots in your house?]