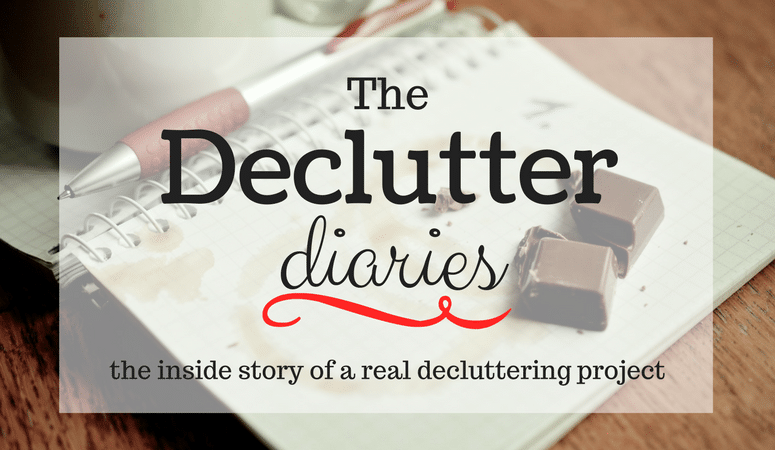 The Declutter Diaries is a series of posts I did for a former blog as a glimpse inside a real decluttering project [with occasional editorial comments from my present self].  You can start with Day One here.
---
First Things First
This post contains affiliate links
I am a participant in the Amazon Services LLC Associates Program, an affiliate advertising program designed to provide a means for me to earn fees by linking to Amazon.com and affiliated sites at no additional cost to you.
Today I have jumped back to zone 2, to finish up the hallway, entry, and bathroom.  This will complete most of the living area of the house.  In the upstairs hallway, we have a file cabinet which I am trying to go through to declutter (i.e. throw away bunches of paper).  I hope to move this file cabinet up to the attic.
Paper and files make me slightly crazy.  I find myself being incredibly indecisive about throwing stuff away.  To help me keep my priorities straight, I am reading a book called First Things First by Steven Covey, et al.  It's about centering your life on things that are important and that make a difference in the long run.  It's easy for me to just keep shuffling paper around, organizing it instead of paring it down to the things that are essential to me.
Less is More
The one thing that would make the biggest difference in my life right now is having a lot less stuff to take care of, organize, clean, store, fuss over, etc.  Cleaning would be much simpler and faster.  Finding things would be a breeze.  I could vastly reduce my guilt over unfinished projects.  [I still feel this keenly.  Less is truly more.]
With less stuff, my focus would sharpen up considerably.  I would be less distracted by all the stuff I could be doing.  I would love to experience the incredible freedom of feeling lean, streamlined, and ready-to-go.  Currently, I am bogged down, overstuffed, and barely-able-to-move.  [I have improved somewhat over the years, but this is still a pain point.  If my stuff is overflowing and piling up everywhere, how can there be any focus in my life?  As a visual person, I am constantly distracted by all of my stuff.  It is a source of stress if my stuff is always demanding my attention.]
When I look back at what I have accomplished so far in this clutter challenge, I am proud of what I have managed to get rid of.  But I realize that there is a lot more I could be doing.  It isn't enough to re-organize all the stuff and neaten it up.  I actually need to dispose of many more things that I am holding onto.  Often, I keep something simply because I've had it for a long time or I might need it.
I need to start evaluating items in light of what my primary goals and priorities are.  Are these things furthering my mission in life?  How is this thing helping me accomplish my goals?  Is this freeing me up or bogging me down?  [This is a good word, Past Self.  I need to revisit my stuff with these questions in mind.]
How about you—are you flying free or bogged down?  What can you toss overboard?