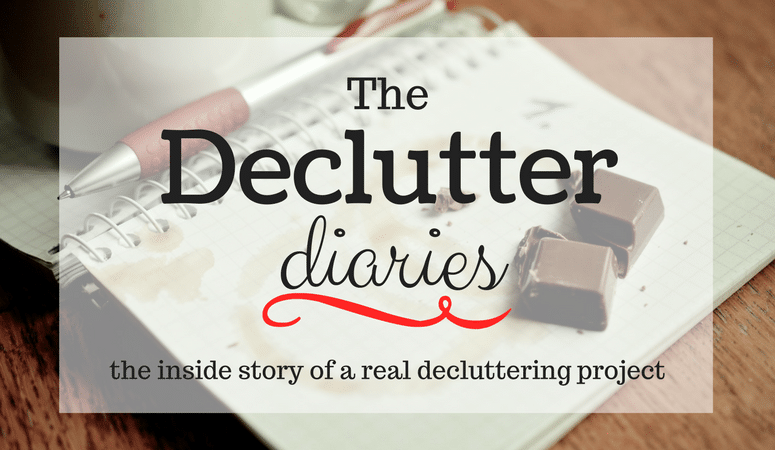 The Declutter Diaries is a series of posts I did for a former blog as a glimpse inside a real decluttering project [with occasional editorial comments from my present self].  You can start with Day One here.
---
[Note: things are rather sporadic at this point.  The last post was probably somewhere around Day 65.]
Okay, I Confess
I have totally fallen off the blogging wagon.  I have still been doing a little decluttering, but have spent most of my time these last two weeks figuring things out for the kitchen overhaul and getting ready for school.  Both will probably begin at about the same time.
[They did.  This was a challenging time in my life.  We basically couldn't use the downstairs area because of construction and storage of major appliances in the living room.  So imagine living in a two-room dorm with four people for two months.  The only way to cook was with the microwave or a toaster oven.  Dishes had to be washed in the bathroom.  And I was homeschooling two young kids in those two rooms.]
Today I made some major headway in decluttering kitchen cabinets.  This was fairly easy because there actually wasn't that much junk in these cabinets–just a few random items that were easy to part with.  I still need to do under the sink (which is astonishingly jammed with stuff).  [I recently did a mini-kitchen makeover which also involved clearing out the mess under the sink.  Strange how the same areas keep collecting junk over the years…]
Also, I need to go through a few cabinets and drawers in the "other" part of the kitchen as well as the pantry.  The goal here is to get rid of anything we don't really need before I pack it all up to move it out of the kitchen.  No sense packing things we don't even want to keep.  [Too true.  Think about this the next time you move.]
[Here are more before and after pictures of the kitchen.  Still needed to paint in the after picture.]
However, I need to move everything out of the kitchen in order to have the space.  This means I am going to have to tackle the last stand: the basement.  Yikes!!  Actually, there are five areas in the basement, two of which I have already been forced to clean out.  That's where I put things when I was decluttering other rooms, like the school room.
I am also going to have to revisit the attic which has become a bit of a dumping ground during this decluttering project.  Notably, there are still things up there that I need to sell.  I also need to purge more from the "later" boxes of things/papers.  Eventually, I'll need to figure out where to put them.  [Some of those boxes continued to haunt me for years to come.  Seriously, just get rid of it already.]
There are only 13 days left in my 90-day clutter challenge.  Sigh, so much to do and so little time….