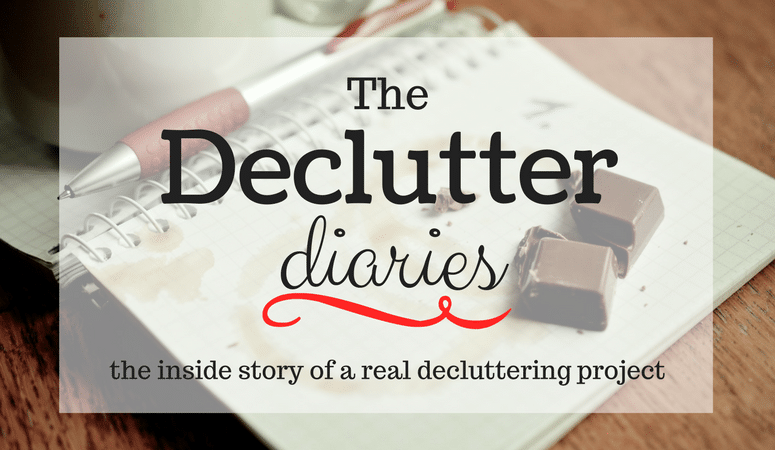 The Declutter Diaries is a series of posts I did for a former blog as a glimpse inside a real decluttering project [with occasional editorial comments from my present self].  You can start with Day One here.
---
[Note: This is the final post in this series.]
Return to the attic
I worked in the attic a bit today.  It was pretty depressing (and too hot).  After all my hard work to get it organized at the beginning of the summer, it's kind of fallen apart again.  [Alas, decluttering your stuff is an ongoing task.  That's why it's so important to limit what comes in and have a system for getting things back out.]
My kids have been playing up here.  They have certainly not been putting anything away, which adds to the general mess.  I've been using this as a staging area for things to sell and donate and many of these items are still here.  We are currently storing some stuff for a friend.  So there is a big pile that I can't really do anything with.  It's also where a lot of difficult-to-decide stuff ended up as well as loads of paper to sort.  [My arch-nemesis again: paper.]
I tried to go through the boxes of papers.  Some papers were easy to toss, but it was slow going.  I did get a filing cabinet moved to its designated spot. Then I put several boxes of papers into it, so that freed up some floor space right at the top of the ladder.
I was also going up and down the ladder trying to supervise my kids:  un-fun.  So overall, it was just kind of stressful to be up there for long.  I need to get tougher on my tossing if I'm really going to see a major difference.   [Wow.  This sounds so depressing.  It's interesting that this is the final regular entry I made during the declutter challenge.  I started in the attic and came full circle.]
Have you hit any places of discouragement?  What are you doing to get re-motivated or keep going?
The Rest of the Story
[I never did much more with the attic or basement at this point.  School started and we were in the midst of the kitchen remodel.  Then we had guests.  Then the holidays came….  Well, you get the picture.
Four years later we did another remodeling project which involved putting in a staircase to the attic and turning it into two bedrooms.  So the stuff that was in the attic ALL had to come out.  Oh, my aching back!  
Here are some pictures of the attic showing before the declutter challenge, after the declutter challenge, 4 years later before construction, and then after the construction.  The angles are slightly different, but you can see the changes.]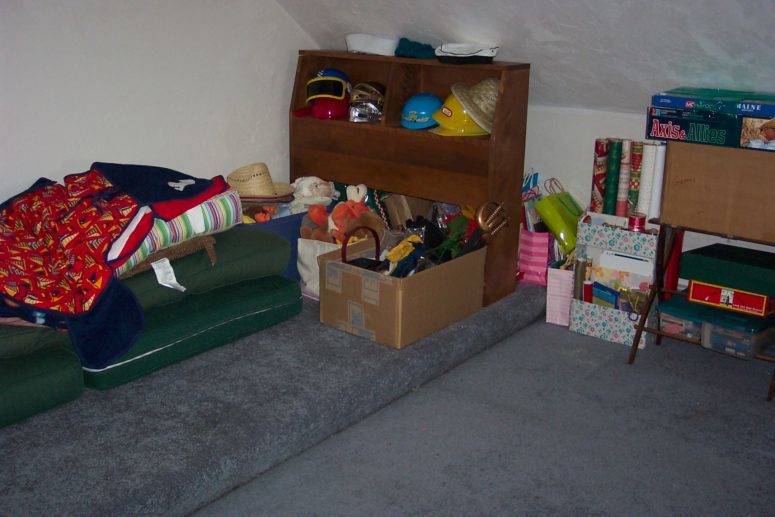 [I did slowly learn to pass things on to others and stop saving everything.  I no longer define myself by what I own.  It's tough, but I am trying to learn not to procrastinate.
At this point, the worst place is the basement.  It's where things ended up that couldn't return to the attic after the remodel.  And it's my go-to place for stashing things I don't want to deal with.  Oh, and I still have issues with too much paper.]