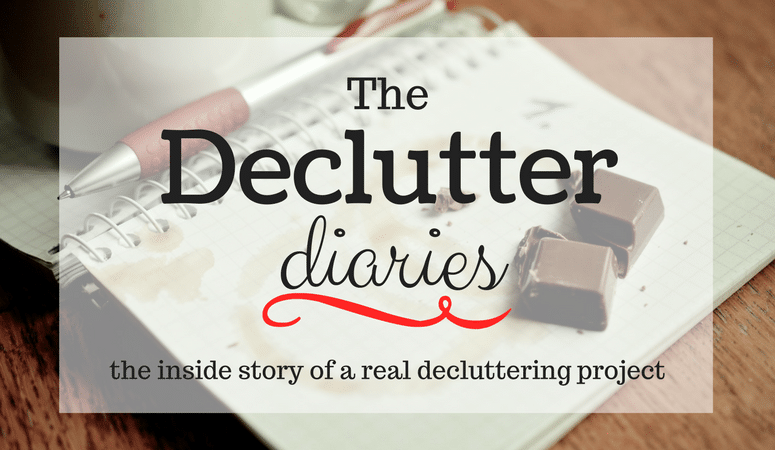 The Declutter Diaries is a series of posts I did for a former blog as a glimpse inside a real decluttering project [with occasional editorial comments from my present self].  You can start with Day One here.
---
Today was a big push to finish the main "bulldozing" in the attic.  [This is key: sometimes you have to go for "bulldozing" or getting the biggest and most obvious things dealt with.  It's not the time to dig into each drawer; instead, you just need to clear the floor and make space.] The rains have ended and the heat is back, so I needed to get the bulk of it done before the temperatures soar up there.  The final project was the remaining corner of junk, pictured here.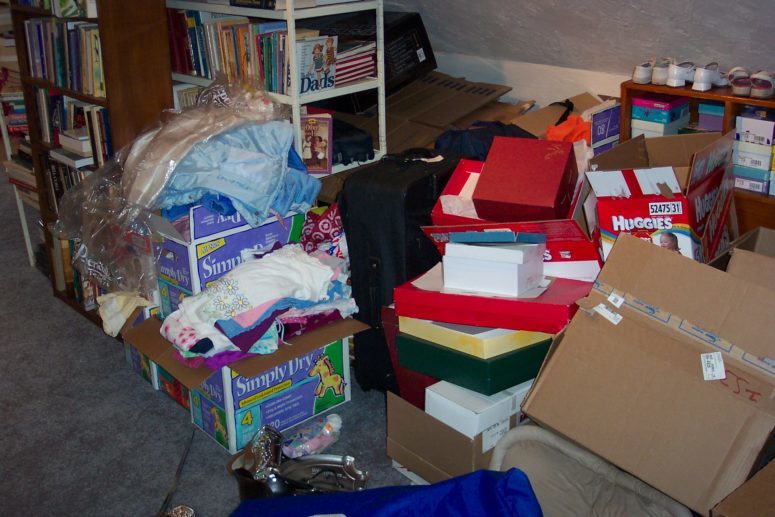 Most of this was piles of linens, old cushions that my kids play with along with their dress up stuff, and wrapping paper and bags.  I did decide to get rid of some of the old blankets.  Mostly I needed to organize and straighten up.  I pitched a few more empty boxes I was saving. [Thank goodness!  Please do NOT save cardboard boxes unless you are moving in less than 6 months.]
My husband helped me go through the rest of the books, categorizing them and placing them on the shelves.  We got rid of a few, but again, mostly I just needed to organize them.  I cannot believe how much floor space there is in the attic now!  And I can actually access everything that is stored up there.  Woo Hoo!  [This is a basic measure of how functional your house is: can you actually get to everything?  Or do you have to climb over piles and move stuff to get to things?]
Check out the after picture.  So that's it for week one up in the attic.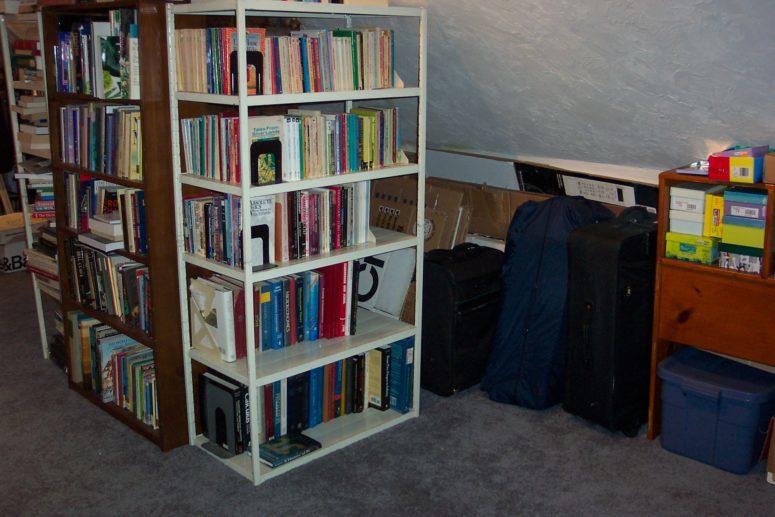 "What are you going to do with week two?" my husband asked.
Well, there are quite a few boxes of stuff to donate/sell, so I need to sort it out and start carting things out the door. [The faster, the better.] There is a small pile of homeless stuff that I need to deal with, though I suspect that this might wait until the end of the housewide de-junking (especially if the temperatures stay up).
I could refine my organizing more, like shelving the books properly (and culling a few more).  I may possibly shift a few things around now that I've finished the bulk de-junking and can see where there is space.  How about vacuuming the carpet that I can actually see?!
[When you go on a major cleaning and organizing binge, you need to do it in the right order.  First you declutter and get rid of as much as possible.  Then you can organize things and move them around.  Finally, you can clean because you have space.  You cannot organize clutter, and you can't clean it either.]
For now, I think I'll go put my feet up and bask in the glow of a job well done.  Are you ready for week two?