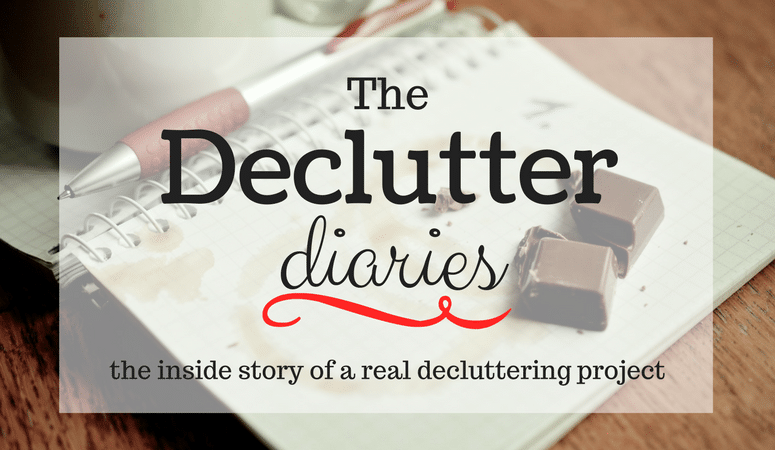 The Declutter Diaries is a series of posts I did for a former blog as a glimpse inside a real decluttering project [with occasional editorial comments from my present self].  You can start with Day One here.
---
[Note: things are rather sporadic at this point.  I'll try to label the posts with all the days that are included, especially all the missing days.]
Days 47 to 53
[I was on vacation during these days.  Not much happened in the declutter department.]
Day 54
I'm back from vacation and getting anxious to get this project over!  Today I finished up the upstairs hallway.  I managed to get rid of another foot of paper from the file cabinets all told—not as much as I wished for, but still acceptable for now.  [You'll see in the picture below that I have a box of paper in the hallway along with the recycle trash.]
The file cabinet that was in the hall has now been moved up to the attic.  After making a second pass at decluttering all the stuff that has been moved up to the attic over the summer, I should have room for it and can then restore the files to the cabinet.  The hallway now has only a small kid's bookcase in it.  This will allow us to use the hall space as a place for "circle time" in our homeschool in the fall.
I'm beginning to wonder if in all of my decluttering I am really getting rid of enough stuff.  It would be pretty discouraging to spend all this time doing the work, but then end up with pretty much the same stuff I had before, just sort of rearranged.  I suspect I will need to do a second pass in order to really pare things down.
[This is a key point!  Don't just shuffle stuff around and "organize" it.  You really have to unload a lot of stuff if you want to decrease the total volume of things in your house.  When you have less stuff, you will have less work and less stress.  Do yourself a favor and get rid of as much as you can.]
Tomorrow I plan to finish up this zone by doing the bathroom.  That leaves the kitchen for next week, which will finish the general living space by the end of the month.  I will still need to do the basement and then redo the attic.  But at least the daily space will be much more livable.
I am re-evaluating my 90-day plan in regards to the basement and attic.  In August, I must get my homeschool plans in order for the year and I have a lot to do.  Frankly, this is more important than finishing up the basement and attic before the end of 90 days.  I'd like to think I could do both.
So after finishing the kitchen, I am going to work like mad on getting school stuff ready and hope that I will be able to spend the last two weeks of August finishing up the decluttering.  [Oh Past Self, what big ideas you have for how much you can accomplish in a short span of time!  I'm all for dreaming big, but don't be completely unrealistic and so become discouraged.  Pacing is everything in the decluttering marathon.]