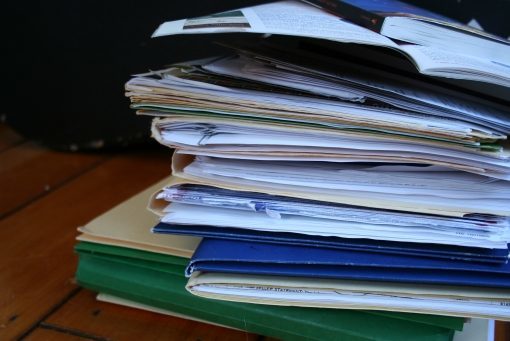 Yesterday I talked about 5 Reasons You Pile Things.  Now let's take a look at how to actually get rid of the pile.  First I took two containers (you could use boxes, baskets, bins, whatever will hold a stack of stuff).  Second, I quickly sorted everything into the containers: 1) needs an action, 2) needs a decision.  My goal in doing this was to sort out the ambiguous stuff from the things that already have a next action step.  The things in the first box included the following:
put it away
file it
fix it
enter information somewhere
throw it away
The second box included:
maybe projects
unidentified objects
stuff I want but it doesn't have a home
sentimental stuff
just-in-case stuff
things for later (read, try, etc.)
Step One in Pile Demolition
The quick sort was the very first step in creating a Pile Demolition System.  Some people call this processing their inbox; I call it Pile Demolition because, let's face it, I don't have an inbox, I have an in-room!  Frankly, I'd love to get down to an inbox that I had a weekly plan for attacking, and this is step one. My "Take Action" box mostly consists of filing, putting something away, or recording information with occasional other actions (like tossing trash or fixing something). This part of the pile is not energy sapping and doesn't make me anxious because I know what to do.  But it is not urgent, so it is easy to be lazy and not do it.  This will lead to another step that I'll talk about in another post.
The "Decision" box is definitely the one that threatens to overwhelm me.  Honestly, this is what has tended to defeat me in dealing with piles for years.  I dive in to a pile to "get it sorted," and before long I have way too many decisions to make.  Decision making is very tiring!  There are really only a limited number of decisions that you can realistically make in a day.  If you sit with a "procrastination" pile and go through item after item trying to make decisions about them, you will quickly tire yourself out.  That doesn't mean the decisions don't need to be made—they desperately do, but trying to do it all without any kind of system to help you is like trying to climb Mt. Everest without any training or equipment.  Not gonna' happen. 
Decision Making Kit
So what I need at this point is a decision making kit.  I totally wish I could buy a decision making kit, but since it doesn't exist (yet), I'll have to invent it myself.  Are you interested in getting one?  If so, let me know what you think needs to be in a Decision Making Kit in the comments below. (part 2 is here)