Become a Prime Member (Prime Day is June 21-22)
First, if you are not an Amazon Prime member, Try Amazon Prime 30-Day Free Trial
. I have been a Prime member for years and I cannot tell you how much I have saved on shipping alone. I love, love, love 2-day shipping!
Plus, I watch videos, listen to music, and have unlimited photo storage—UNLIMITED. I finally uploaded ALL my photos. Now I don't have to worry about backing them up or losing them in a computer crash.
Alright, on to the organizing items I've found for you.
Kitchen
NOTE: if you can't see any pictures with links on your phone, turn the phone sideways and reload!
PRIME DAY FAVORITE: Instantpot
1. I finally switched over to all Rubbermaid storage containers. I love that they are stackable and the lids are interchangeable for the basic sizes. Ever have trouble keeping your lids together? Here's a great way to keep them neat and accessible.
2. Here is a solution to keeping your baking pans or cutting boards organized, and it's ADJUSTABLE! That's new to me–such a great idea.
3. I love keeping things on turntables because it helps me see what I've got in the cupboard. This one is a stacked turntable, which is perfect for spices (that's what I do) or small cans.
4. These drawers are the best for under sink organization. I have two of them to go on either side of the water pipes. The top drawer is good for taller items like cleaning bottles and the bottom drawer is great for smaller items like cleaning brushes and gloves.
Beauty Supplies
5. Here is a clear organizer for makeup. I like this idea because you can see everything easily, but stuff stays organized and in place. If you're like me, you don't want to be digging through everything to find the one item you want.
6. Keeping jewelry from turning into a tangled mess is always a challenge. This hangable bag has individual compartments to store things so they don't get tangled and you won't have earrings getting separated from each other. I like that you can see each item and the bag can swivel from front to back on the hanger.
Front Entry
7. In my house, there really isn't much of an entry area, so I'm always on the lookout for ways to keep things tidy and accessible. I like this bench with storage for shoes because I want a place to sit down to take off shoes and extra storage for them is welcome.
8. This cute little shelf is perfect for keeping all the things you need by the front door. A place for keys, sunglasses, outgoing mail, an umbrella, or whatever small items you need to remember.
9. One of my readers told me, "I wish I had a duster to help me clean the cobwebs on the ceiling of my stairwell." Here is a set of dusters with extendable handles to help you reach high ceilings and fans (and maybe have a pole to reach the "hush" button on a fire alarm that insists on going off in the middle of the night!).
Closet Storage
10. How about these shelf dividers? Such a great way to keep stacks neat on a closet shelf. This would be perfect for stacks of sweaters or linens. If you put a piece of cardboard between each item, you could easily slide one out of the stack. Just replace the cardboard on top of the stack for the next item you put there.
11. I love collapsible bins! These are good for soooooo many things, and when you don't need them, they fold flat. My kids took bins to camp to help keep things tidy on their shelves.
12. Here's the ultimate space saver: vacuum storage bags. These things can help you store big, fluffy items in a fraction of the space. Great for extra pillows and blankets or out-of-season clothes.
13. Over-the-door shoe storage bags are good for so many things besides shoes! You can use these in the bathroom to store toiletries or cleaning supplies. They work great in a kid's bedroom to store small toys or craft supplies.
14. What cleaning closet doesn't need a way to keep mops and brooms organized? This holder can cope with a variety of handles and also has hooks to hang smaller items on. I have found this one to be easy to put items in and out.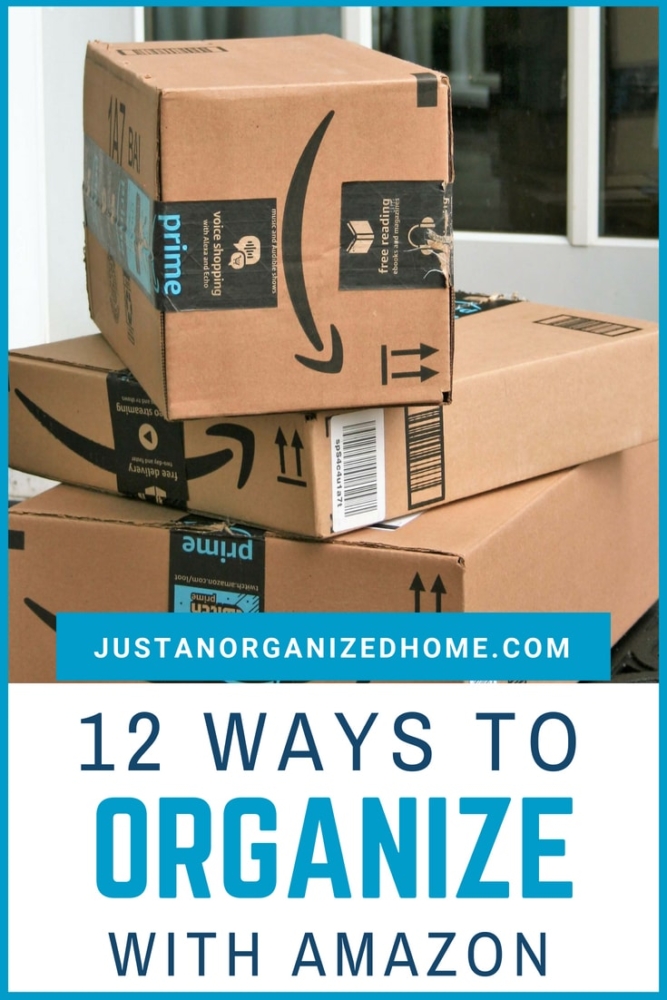 Need some more ideas? Head over to Amazon and check out these Organization Ideas