Modern homemaking is tough. Life can be complicated and overwhelming. Maybe nobody really taught you how to run a home or stay organized. And cleaning? When did anyone show you how to keep your home clean in a reasonable amount of time? And what about meals and shopping and budgeting? Maybe you could use some homemaking advice at an affordable price and the Ultimate Homemaking Bundle is here to help.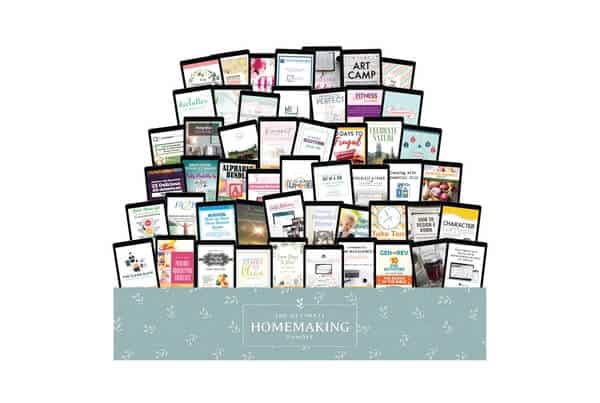 The 2020 Ultimate Homemaking Bundle will help you grow your homemaking skills. The creators behind these resources are 50+ women who have struggled with the same things you do but have learned (and will teach you) how to simplify homes, declutter & organize, put healthy meals on the table, and nurture strong family relationships.
Here's how it works: When you buy the Ultimate Homemaking Bundle, you'll get access to:
14 eCourses & videos
9 eBooks
9 workbooks
8 planners
8 printable packs
3 membership sites & summits
That's 51 different products you can get for just $29.97! These resources cover everything from decluttering and cleaning to meal planning and budgeting, plus stuff for kids, parents, and pampering yourself.
If you've never heard of it, the Ultimate Homemaking Bundle has been around since 2013, and since then, over 139,000 people have purchased a copy to learn practical strategies for decreasing stress and making a home (and life!) they love.
Table of Contents
Is it worth it?
The good and the bad
Clean & Declutter
Organization & Décor
In the Kitchen
Bonuses
How to use this bundle
Is the Ultimate Homemaking Bundle worth it?
When I was thinking about buying this resource, I took a look at all the products and picked out just 10 that looked interesting to me. Here's what I picked out:
5 Days of Cleaning Motivation (eCourse) by Joanie Boeckman $20.00
The eCourse you need to go from domestically challenged to domestically motivated.
Declutter in Minutes (Planner) by Tracy Lynn $27.00
A planner that helps you to easily weave decluttering and organizing into your already busy day.
Journey to Clean 2020 Cleaning Cards (Printable) by Leslie Lambert $8.99
Gives you simple cleaning tasks on printable cards.
Printable Housekeeping Checklists (eBook) by Dana K White $6.00
Printable checklists to help even the most overwhelmed.
The Essential Decluttering Starter Kit (Workbook) by Celeste Fennell $20.00
All the tools you need to start decluttering your home.
How to Design a Room: From Start to Finish (eBook) by Ashley Carpenter $7.00
Learn a step-by-step process that will help you decorate & design any room with confidence.
How to Plan Your Life: A Practical Approach to Actually Achieving Your Goals (eCourse) by Abby Lawson $12.00
An exclusive workshop designed to help you define your priorities, set actionable goals based on those priorities, and then break those big goals down into easy-to-accomplish baby steps.
Making Your Life Perfect Right Where You Are (eCourse) by Jennifer Roskamp $99.00
A self-paced course that will give you the tools to manage the parts of life that bring overwhelm so you can find peace and joy in your daily life, your home, your relationships, and your emotions.
Take 10 Challenge (eCourse) by Laura Coppinger $17.00
Learn to take just 10 minutes each morning to help you put 10 delicious real food meals on the table at night.
Uncomplicated Kitchen: 3 Step System for Simpler Weeknight Cooking (eCourse) by Ruthy Kirwin $64.00
A proven 3-step system that will help you streamline your weeknight kitchen, and free up your time making dinner in the evenings.
That's 10 resources that normally cost $280.99 that I got for just $27.99! That's a lot of value for a little price.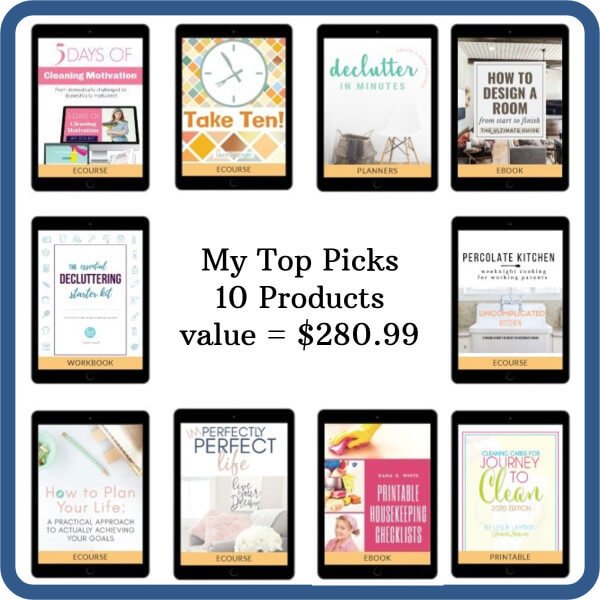 Here's my honest opinion of the Ultimate Homemaking Bundle—the good and the bad
First the bad:
You definitely won't need or want everything in the bundle. In fact, there is so much here that it can feel a little overwhelming.
Some of the courses and membership sites include registering which means giving up your email. You will probably see an increase in your email inbox (but you can unsubscribe anytime).
You do have to download everything within 6 months, but once you do, all the resources are yours for life.
Finally, there are many faith-based resources here (specifically Christian), which could be good or bad depending on your preferences. But if you can ignore the products that don't interest you, there are plenty of things that can help your homemaking skills.
Now for the good:
There is definitely something for everyone, so even if some of the categories don't apply to you, you will still get plenty of value,
There are some real gems in here. Quite a few resources in the bundle are worth more than the cost of the bundle itself.
It's very affordable. I mean, where else can you get so many resources for less than $30?
You have it forever. I like to download everything and sign up for all the courses I think I'll ever want just so I have them available for later.
Let's take a closer look at some of the resources in the bundle.
Clean & Declutter
My favorite section is Clean & Declutter. At least half of the products I was most interested in are in this section. I have spent major chunks of my life figuring out how to declutter and dig my way out from under the piles. Anything that can help with this is a win in my book.
One of my favorites in this section is Printable Housekeeping Checklists by Dana White. I love everything that Dana has to say on the subject of decluttering and keeping your house organized. She is VERY ADHD-friendly.
There are checklists in here that you can print along with samples of what she has done. You'll also find links to blog posts that explain the purpose of the checklist. It's super useful and realistic for people who really don't get housekeeping.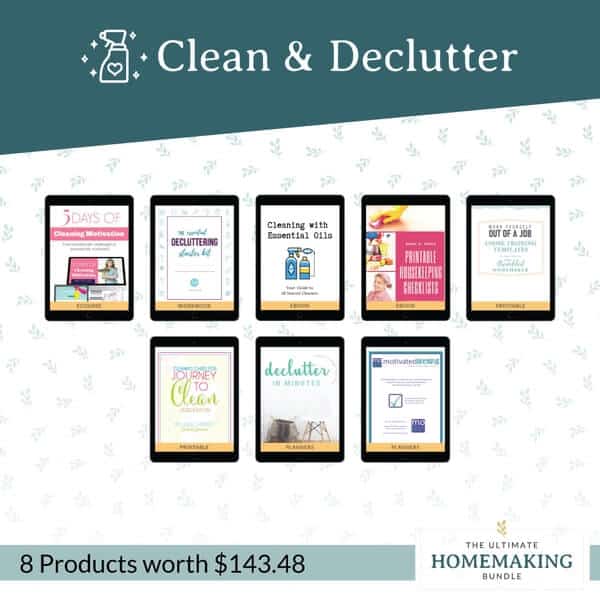 Organization & Décor
I always feel like I could use help figuring out how to organize my time and create routines for my day. A great resource for this is Making Your Life Perfect Right Where You Are, an eCourse by Jennifer Roskamp.
This is a course with 4 lessons. Each lesson has a 20-40 minute video and a transcript of the video for people who would rather read. There is a small printable workbook that is mostly templates for you to use in creating your own routines. Included are lessons on creating routines, juggling roles, keeping your home running, and taking time for yourself.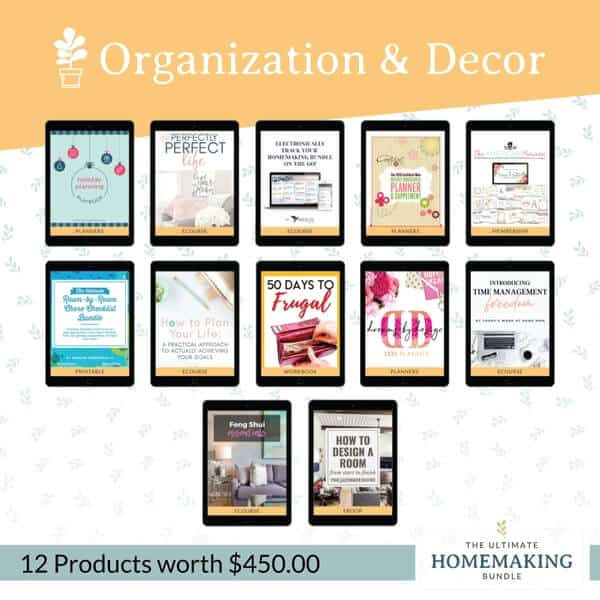 In the Kitchen
Another great section is called In the Kitchen. Here you'll find recipe collections, meal planning advice, and even a book on canning. One of the resources, called Take 10 Challenge, has 10 simple meals that you do 10 minutes of prep in the morning for and then finish with 5-30 minutes in the evening. It's a very practical and easy guide and also includes links to many other recipes.
Another course is Uncomplicated Kitchen: 3 Step System for Simpler Weeknight Cooking by Ruthy Kirwin. It aims to help you streamline your weeknight cooking and gives a lot of advice on freezer cooking, instant pot meals, and one-pan dinners.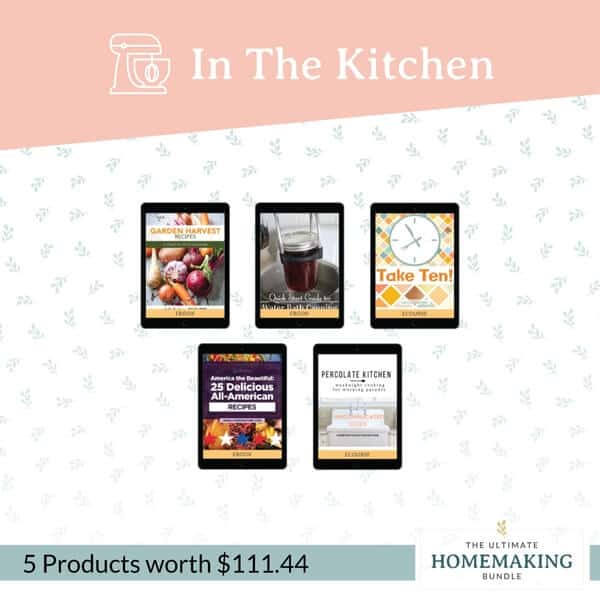 Bonuses
If that's not enough, there are some amazing bonuses that you can get just for the cost of shipping.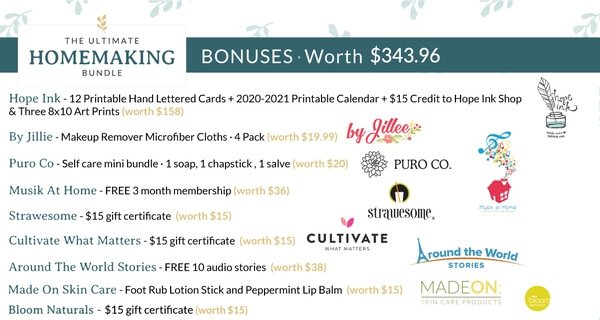 Two favorites that I ordered are reusable glass straws and microfiber makeup remover cloths.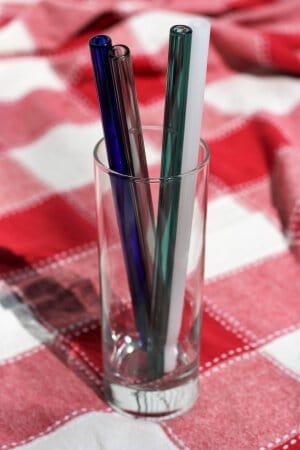 I ordered a different colored straw for each member of the family. These come in several different sizes for thick drinks like smoothies and others to fit in a drink bottle.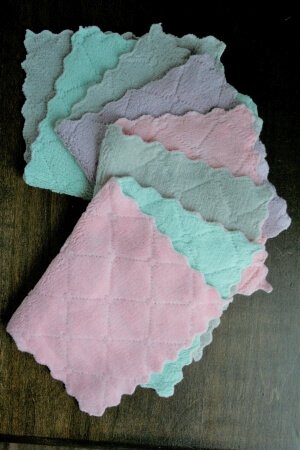 The makeup remover cloths are super soft and bigger than I thought they would be. They are really quite beautiful. Best of all, they are reusable.
How to best use the Ultimate Homemaking Bundle
You have 30 days to order the special bonus items, so order any you want right away because they expire quickly and it's easy to forget about them.
After that, focus on a category you like. Read the descriptions and pick a few to download. Sign up for any courses you want and be sure to bookmark them. Remember, you don't have to use everything, just pick and choose what you really want. Even if you just end up using a few, you will still get the value of the bundle.
Alternatively, you could download everything and then unpack them as you have time and interest. I usually choose to do this so that I have things later if I want them.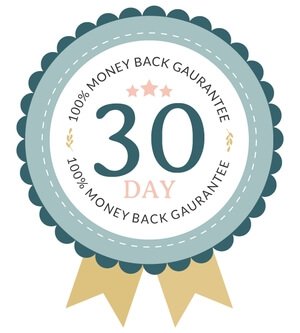 You really can't go wrong. You have 30 days to examine the bundle. If you are not happy with it, you can get a full refund.
This bundle is offered at such great savings because it is only available for a few days. The sale is over for now, but UB has different bundles and flash sales throughout the year. Join my email list to hear about future bundle sales.