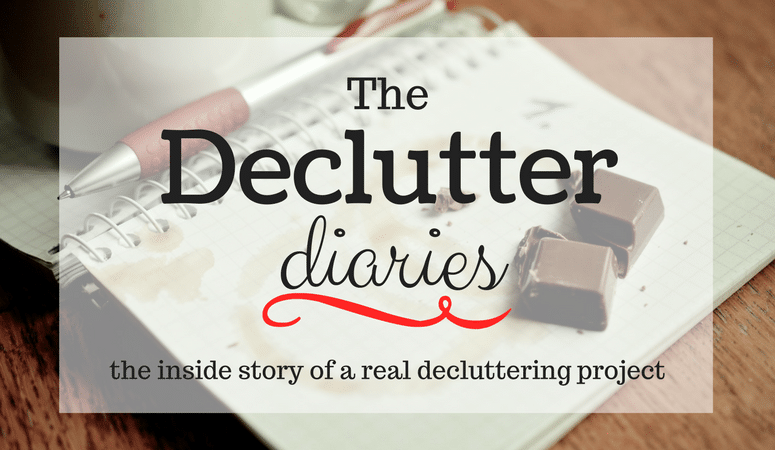 The Declutter Diaries is a series of posts I did for a former blog as a glimpse inside a real decluttering project [with occasional editorial comments from my present self].  You can start with Day One here.
---
Emergency Cleaning Mode
Today was my daughter's birthday.  Because we had guests coming over, I was once again forced to work in my kitchen.  [Ha!  Love this choice of word: "forced."  Yes, when we don't keep up with the cleaning and organizing, sometimes we are "forced" to do it when company comes.] This time it was the bookcase that serves as an art/music/pretend play/cookbook/good china holder.  This bookcase really drives me crazy! [It still kind of drives me crazy, I wish it was slightly deeper and had doors on it to keep out the dust.]
We use it frequently, and it has been such a disaster that it's hard to get stuff out for my kids without knocking things off the shelf.  The piles of pretend groceries all over the floor really make it difficult to move around the table.  And frankly, it looks awful.  [Cringing at the before picture.  It's obvious that I had a tendency to hang on to way too much stuff.  I still struggle with this, but I am slowly learning that when I get rid of stuff, I rarely miss it.]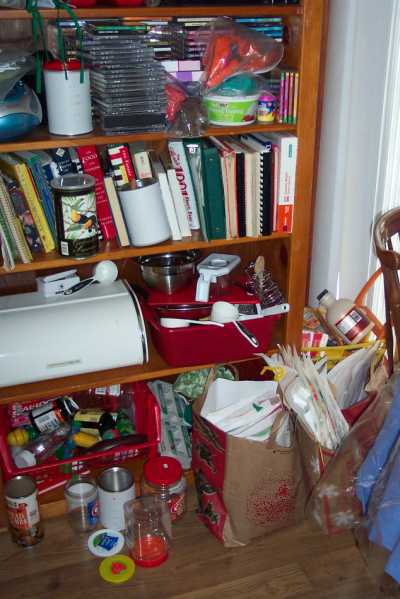 Let's Get Some of This Stuff Outta Here!
To start with, I banished all the pretend groceries to the basement.  I shuffled some overflowing art supplies up to the school room, took extra CDs to the upstairs CD rack, and put trash/junk into the garbage. [Whew!  I'm glad I at least threw some stuff away!]
The biggest change was to swap my cookbook shelf to a higher shelf and move the art and music stuff down.  My son was thrilled to be able to put CDs into the player all by himself.  He spent much of the morning playing music.  I even have an entire empty shelf!  [Enjoy it while you can.  Those empty shelves never last around here.]
This project is not done, though, as I still need to figure out better ways to store the art and kid cooking supplies.  Mostly I was in emergency cleanup mode, but with a difference.  I really did do some decluttering as I went.  I tried to organize things to be more efficient instead of simply picking up loads of stuff and hiding it somewhere else.  This is progress!  [Yes, I know…hiding piles of junk when the company comes is so cliché–but sadly true!  It's embarrassing to admit, but people like me who struggle with order and organization really do this.]
Do you go into emergency cleaning mode when company is coming?  Do you deal with piles of junk by hiding it?  Next time you have an emergency cleanup, can you take a step in the right direction and do a bit of decluttering as you go?  Maybe it isn't perfect, but at least do a rapid sort through the papers, throw some away, and put things roughly where they belong.