Meal planning made simple
Ever cringe at the question "What's for dinner, mom?" In two hours with just paper and pen (or your computer) you can create a simple menu plan that you can use forever. Set aside an evening to follow these five easy steps. You'll never dread that question again.
Materials needed:
printed templates
pen
recipes or your favorite cookbook
file folder for recipes
shopping list or app
optional: a way to display your menu plan for the week
Time:
Initial time to get set up: 2 hours
Weekly planning time: 15 minutes (mostly spent making the shopping list)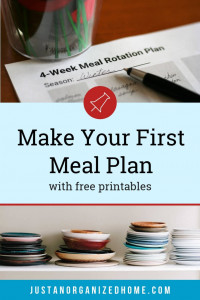 Step 1: Brainstorm a master list of favorite recipes (15-30 minutes)
For those who are easily distracted (I'm looking at you ADHD) this is NOT the time to leaf through cookbooks or magazines looking for ideas because you KNOW that you will get side-tracked!
Instead, get out a blank piece of paper (or download these free templates below) and do a brainstorming session of all the recipes you can think of that you have ALREADY made in the past. If it helps, you can make some broad categories to help you think: main dish, soup/stew, casserole, chicken, etc.
This is a great activity to do with the family. Let them suggest all their favorite dishes and jot them down. Do the same thing for side dishes like salads, vegetables and so forth.
After you have a good list of recipes, you can briefly (emphasis on briefly!) thumb through your recipe collection or a favorite cookbook to jog your brain for more ideas. Do not bog down here—just do it as quickly as you can. You might put a sticky note marker on the pages in your cookbook and/or note the page numbers on your list.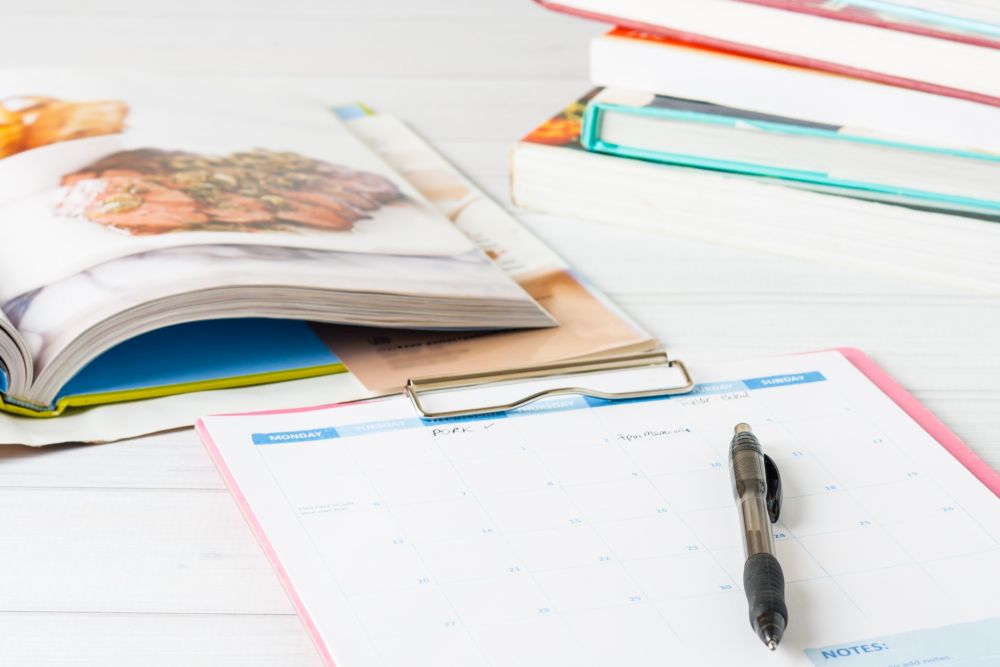 This would be a great time to make sure any printed recipes are put into one notebook or folder so you can reference them easily. But don't get distracted by a project to make them pretty! Just put them into a file folder together.
GOAL: Your goal is to come up with 15 to 30 different main dishes along with side dishes that you already know are winners for your family.
Step 2: Sort recipes onto a master list (15-30 minutes)
Now that you have a working list of main dishes and side dishes, you are going to sort them out a bit. The first way you are going to sort is by season. Ask yourself if this dish is appropriate for warm weather or cold weather. Mark recipes with letters like "H" and "C" for hot and cold, simple symbols like a sun and a snowflake. If you like color, use red and blue markers.
The second way to sort is by how difficult or time consuming the recipe is. Your categories can be easy, medium, and special occasion. "Special occasion" is for dishes that are literally for a particular event or holiday. It can also be things that are just time-consuming to make, so you might only make it on a weekend. Simple symbols to use are numbers (i.e. 1, 2, 3) or plus signs (+, ++, +++).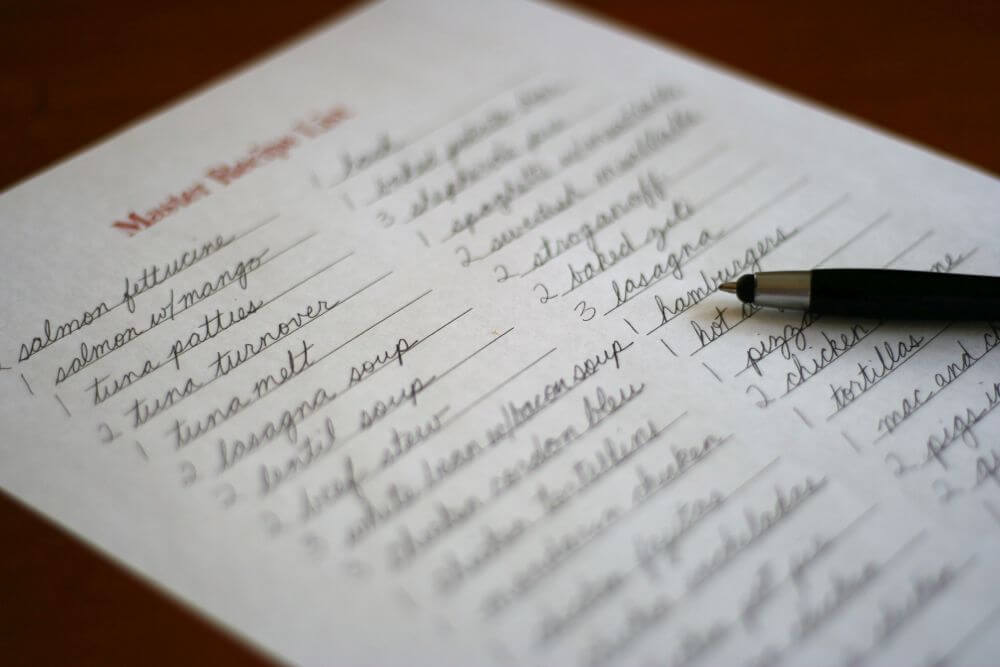 At this point, I highly recommend rewriting a master list that is sorted by season and difficulty. This will help you create plans that are seasonally appropriate.
It will also give you a list you can make substitutions from when you need something that fits your schedule better. You can do this on a computer, or rewrite the list on paper.
GOAL: Create a master list of main dishes and side dishes that are sorted into appropriate cold/warm seasons and are marked as easy, medium, or special
Step 3: Create a rotation plan (15 minutes)
I recommend a rotation plan for your first meal plan because it gives you structure and fewer decisions to make. Depending on how far ahead you want to plan and how many recipes you have, you can choose a 2-week rotation or a 4-week rotation.
You can also do this on the templates provided HERE or create something on your computer.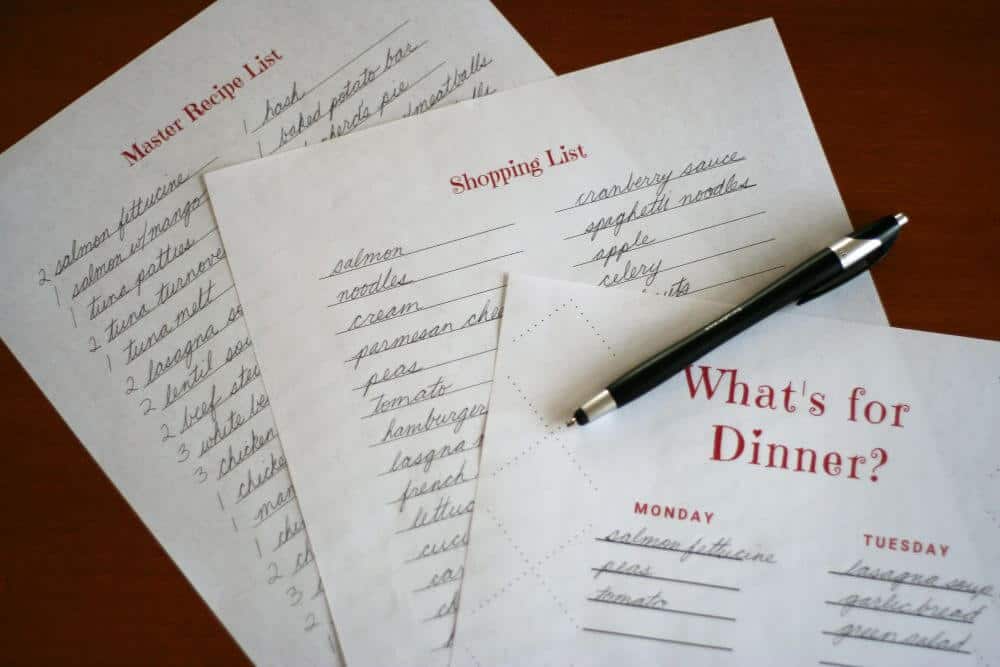 Once you print out a template, you should decide if this rotation plan will be for warm or cold weather. Start with whatever season you are in. You aren't likely to want stew in the summer or be planning to grill in the winter. Put the season at the top of the paper.
Next, you will put one main dish into each slot. Use your master list to quickly assign main dishes. Then add appropriate side dishes so you have a complete menu. Remember, this is just a guideline you will use to make your weekly menu plans. You can shuffle things around to fit your actual week better in the next step.
.
When you get to a new season, you can go through this step again using appropriate recipes from your master list. Here is an example of what your rotation plan might look like: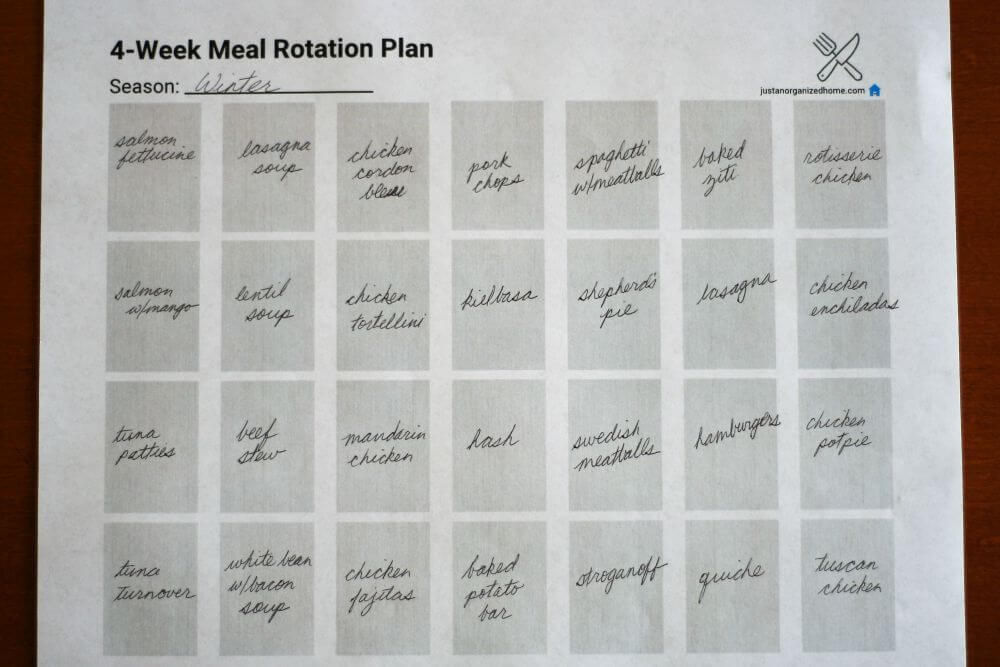 GOAL: Make your seasonal rotation plan (either 2-week or 4-week) that has a complete menu for each day.
Step 4: Create the weekly meal plan (5-15 minutes)
Now you are ready to create a meal plan for next week. Take a look at your calendar or planner for the next week. On a fresh weekly meal plan sheet, take the meals from the first week of your rotation plan and sort them into your week.
Make sure you put easy meals on the days that you don't have much time. An example is a crockpot meal or something that you can make ahead. You can also plan to eat out or do a leftovers night. Save the special meals for days when you have more time.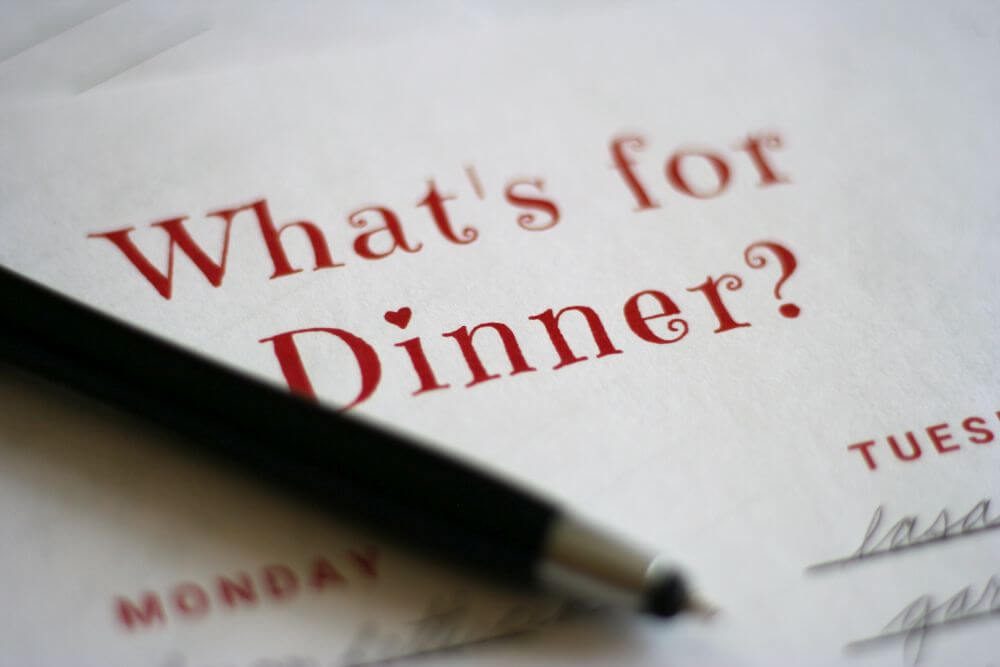 If you are using a 2-week rotation, you might want to go ahead and schedule the next week at the same time. If you are using a 4-week rotation, you can schedule as far ahead as you feel comfortable doing. That could be doing one week at a time, or doing the whole month.
When you have done all the weeks from your rotation plan, you will simply start the rotation over the next time you make a meal plan.
If you keep the meal plans that you make (or snap a photo of them), you can use them to make notes and use for future reference. If you find a new recipe you want to try, stick it into the rotation and see if you like it.
Remember, this is just a first meal plan. It will help you get more control over meal times and learn how to create your own meal plan system.
When you are finished you can post your meal plan in the kitchen where you (and those who want to know) can see it.
GOAL: Make a meal plan for one week (or more) that is appropriate for your schedule.
Step 5: Make a shopping list (15 minutes)
Once you have made your meal plan for a week (or more), you can use the recipes to create a shopping list. Be sure to check your pantry, fridge, and freezer for ingredients you already have.
You can shop for canned and boxed items for the whole plan (if you did 2 or more weeks). You can also just shop week by week. If you do bulk shopping, make sure you think about where you will store extra items so you don't forget you have them.
I highly recommend using a shopping list app that you can set up for the stores you shop at. Personally, I use Mighty Grocery (Android app). I can pick things from a master list alphabetically but then switch to "display by aisle" when I am at the store.
This makes shopping fast. No more writing the same things over and over on paper each week.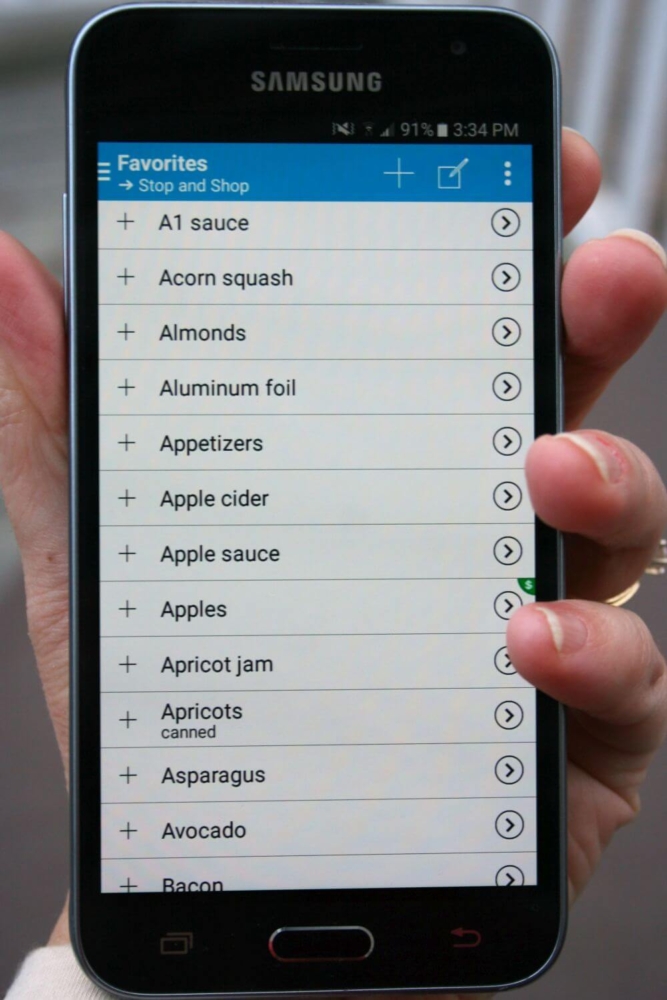 GOAL: Complete a shopping list based on the recipes you will use from your menu plan.
Some final thoughts
For those of you wondering if this plan will stifle your creative spontaneity, don't worry! This plan is totally flexible. I swap meals around mid-week all the time. Sometimes things just don't work out and I move on to plan B.
It's totally fine to change the plan, stick new recipes in, or just order pizza one night. The plan serves you by cutting down on last-minute decision making and trips to the store.
Once you have created your rotation plan, all you need to do is fill out a meal plan for the current week using the rotation plan and make a shopping list. No more wondering what's for dinner!
Summary
Brainstorm a list of favorite recipes
Sort recipes onto a master list by season
Create a rotation plan of main dishes and sides (2 or 4-week)
Fill out a meal plan for the current week
Make a shopping list