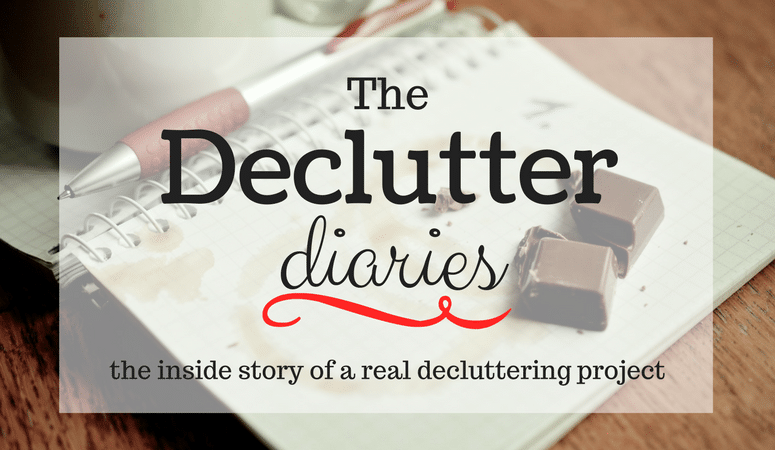 The Declutter Diaries is a series of posts I did for a former blog as a glimpse inside a real decluttering project [with occasional editorial comments from my present self].  You can start with Day One here.
---
This post contains affiliate links
I am a participant in the Amazon Services LLC Associates Program, an affiliate advertising program designed to provide a means for me to earn fees by linking to Amazon.com and affiliated sites at no additional cost to you.
Clutter Control
Another book review for your reading pleasure.  [This book was printed a while ago, but it may be available in your library and it is very cheap as a used book!]  This time I take a look at a book called Clutter Control by Jeff Campbell.  This book is definitely written by someone who is a naturally organized person.  It's a straightforward, no-nonsense kind of a guide to putting your house on a diet and organizing your stuff.
The first chapter sets out the "rules" for decluttering.  He unapologetically tells you that this is a tried-and-tested-method.  So he doesn't offer various hints or solutions—just one practical way to do it.  He explores the hidden "costs" of storing junk and rules for how to decide what to get rid of.  There is also advice on storing things where you use them, and methods for handling things "once."
Chapter two offers some ideas on why we might struggle with clutter.  From my perspective, these reasons describe people who don't have deeply entrenched emotional and/or physical reasons for the struggle.  Basically, the book boils it down to being a pack-rat/thrifty type, a procrastinator, or a person who identifies herself with her stuff.
His solutions will probably work for someone who has moderate clutter problems.  Those with deeper clutter problems, or who try with all their might and make no headway might want to read Winning the Clutter War by Sandra Felton.  It offers a more in-depth analysis of the roots of clutter.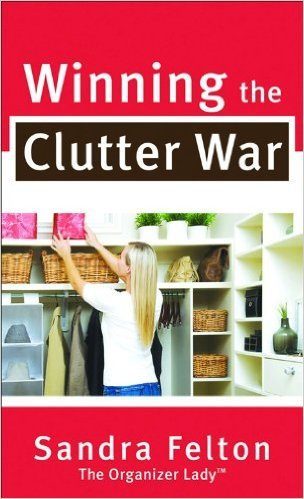 Chapter three starts by describing some basic anti-clutter organizers.  It then goes through a long list of areas to organize from children's rooms to videotapes [yeah, I know, a bit dated, but the advice is still great for most stuff].  Rather than being a system for decluttering, I would describe this book as an aid for organizing things.  This is not a system for how to get rid of junk or sort through your stuff.  It does not offer much help in dealing with the deeper roots of clutter.  Instead, it offers a lot of advice on how to organize drawers, closets, spices, file cabinets and so forth.
This advice is highly valuable, especially when you want to get into the mind of a person who knows how to organize things and see how they do it.  But I would suggest that this is best for the second phase—after the bulldozing of decluttering.  If you are a fairly organized person and just need a little help with some problem areas, this is the book for you.  It's also for you if you are done with a major overhaul and want to organize and develop systems for dealing with ongoing clutter.