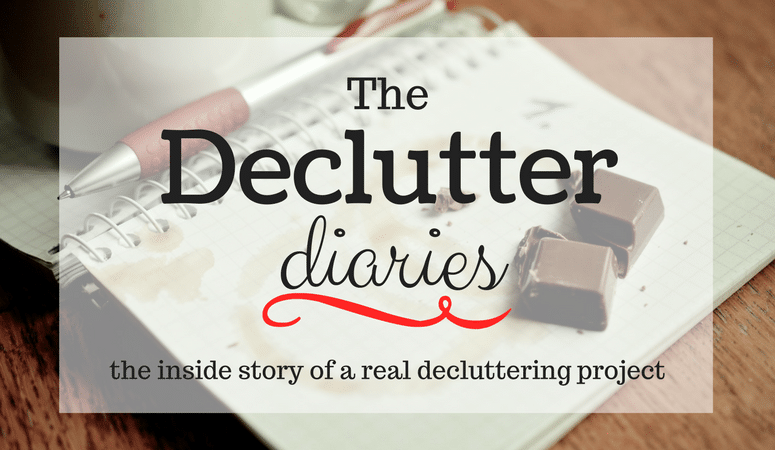 The Declutter Diaries is a series of posts I did for a former blog as a glimpse inside a real decluttering project [with occasional editorial comments from my present self].  You can start with Day One here.
---
Expert Help For My Homeschool Room
Today I had my "expert" consultant in to advise me on my homeschool room.  It was most helpful to get some fresh eyes in to look the situation over.  She was able to give me some good ideas for rearranging the room to better suit my purposes.  She also advised me on ways to store most of my school items "off site."  This means storing things in another storage area (the basement) instead of in the prime storage of the homeschool room.
I hope this will create a more functional room on several levels.  The layout changes should help with traffic flow and create a better workspace.  Her advice on storing like things together will also help me when it comes to retrieving things from storage for current use.
Finally, having only items I currently use in the room should cut down on the distraction of too much stuff for both me and the kids.  It will help us to stay focused on what we are doing instead of shuffling through piles of stuff.
[The takeaways here:
arrange your room for good traffic flow, functional workspace, and storage for high-use items
store like things together so you can see what you have
store items you don't need very often or in the current season in out-of-the-way storage.]
My Plan for Next Week
My plan of attack for next week is to get storage shelves for the basement.  Then I'll move most of the school supplies to these shelves.  Of course, I need to inventory what I have and note where I put it so I can find things again.  (I foresee the need to create a system here.) [Sadly, I never did create a good system for keeping track of school supplies and curricula.] When the time comes, I will be able to move items back to the homeschool room on an as-needed basis.  This will allow me to pull things for use at the proper time throughout the school year without having too many stored items cluttering up the room.
Next, I will declutter the "adult" workspace and move the furniture around to fine tune the layout.   My "expert" may return later in the week to help me actually move things around.  So I hope to ask more questions after I start.  I will try to think through what else I may need help with over the next few days.
Have you considered asking a friend to serve as a "consultant" for your biggest problem areas?  Sometimes others can see solutions we'll never see by ourselves.  [Super advice!  It's amazing how much more objective other people can be with your stuff.]