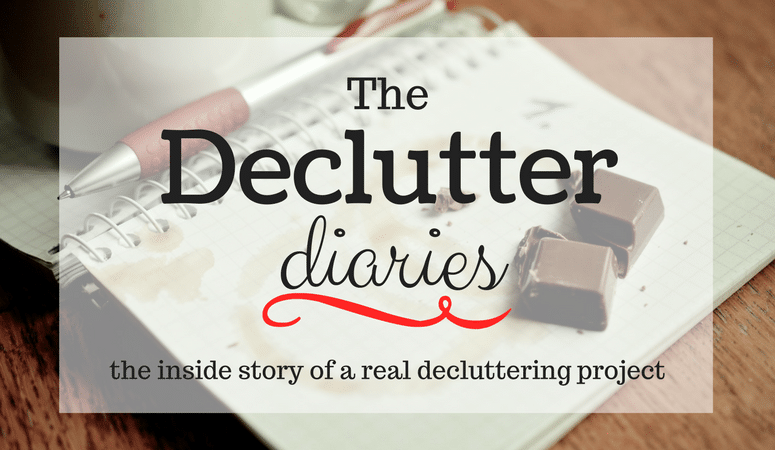 The Declutter Diaries is a series of posts I did for a former blog as a glimpse inside a real decluttering project [with occasional editorial comments from my present self].  You can start with Day One here.
---
Today I had my "expert" helper back! [Hooray for outside help!  I encourage you to invite someone to help you rethink storage or organization for areas you are stuck on.]  She helped us move the furniture around in the schoolroom so that we could set up the various "centers" we talked about earlier in the week.  In preparation for this, I moved virtually everything out of the school room.  Most of it I moved to the new shelves in the basement, awaiting further sorting.  The rest of it I temporarily shuffled to the bedroom so we could move the furniture around.
We actually removed the door from this room.  It opened into the room instead of against the wall and made it difficult to get into the room.  [This may seem like an odd thing to do, but if you have doors in inconvenient places, consider removing them.  When this room was later turned into a bedroom, I reinstalled the door but reversed it so it would open the other direction.  Yes, this entailed moving all the hardware from one side of the door frame to the other, but it was worth it.]
The children now have a comfortable table space and a floor work space.  There are plenty of low shelves for holding school things.  The adults have a dedicated area to house the computer and filing cabinet.  The flow of the room works well, and having everything out of the room makes it feel amazingly spacious. [I can't believe I don't have any after pictures of this!]
Now I can bring back what I need to be in the room as I need it.  I will probably leave this room mostly empty for the summer and then set it up just before we start school in the fall.  Then everything will be new and exciting for school.  It also gives me plenty of time to enjoy an empty room and plan for the fall without the crushing weight of clutter distracting me.  [It is amazing how good empty space feels when you have been drowning in clutter!]
Have you managed to create any "empty" spaces in your house?  Maybe some empty shelves or an empty corner?  How does it feel to see empty space?