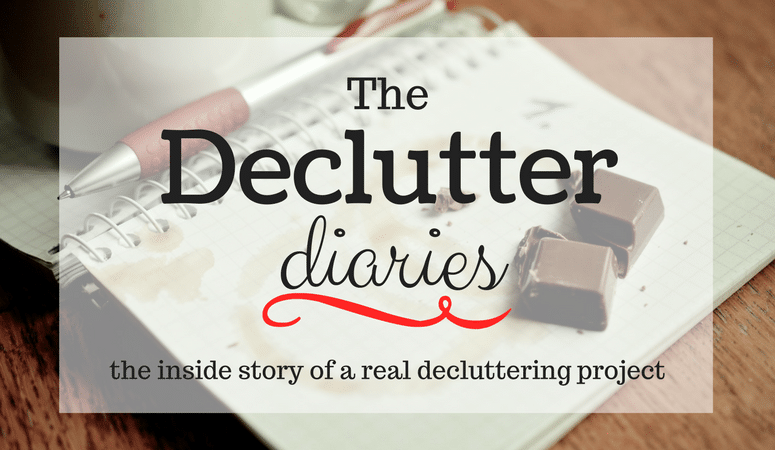 The Declutter Diaries is a series of posts I did for a former blog as a glimpse inside a real decluttering project [with occasional editorial comments from my present self].  You can start with Day One here.
---
The original post for this day simply says: Today is a holiday, I'll be back tomorrow.  So I'm going to post some reflections from the present to make up for this brevity.  Of course, all of these posts from the Declutter Diaries happened a number of years ago, so I have the advantage of knowing how things turn out.  This offers the possibility of interesting insights for my present self.
One thing that surprises me is how many good ideas I had about decluttering back then.  Not that I always recognized it at the time, but I certainly do now.  Here are some of the good things so far:
Have a plan to keep your household basics running while you do a huge declutter project
Have a plan for how you are going to tackle the clutter space-by-space
Be strategic in the order you take things so that you can create working space and future storage space
Pace yourself, it's going to be a marathon
Work with your natural productivity rhythms (morning or afternoon?)
Don't try to work for too long in one session
Start with some easy wins, do NOT try to do the worst space first
Plan in some break days so you don't burn out
Gather your decluttering tools and supplies before you start
Plan time in your schedule for the disposal of stuff (donations and selling take time)
Plan HOW you are going to get rid of stuff (where will you donate, etc.)
Ask someone else to help you think through how to arrange or organize areas when you get stuck
Take before and after pictures!
Keep a tally of how many boxes/bags you toss, donate or sell
Your family is more important than your project
Don't let sentimental stuff or tough decision stuff slow you down, just set it aside and move on
Don't get side-tracked trying to finish projects as you go, set it aside and move on
You may need to bulldoze at the beginning just to make enough space to work
Once you decide to get rid of something, get it out the door as soon as possible
Not a bad start to a list of decluttering advice.
Another thing I notice is just how bad it was!  I'm actually glad to see those before pictures because I had forgotten how chaotic things were.  Not that I am perfect now (by a long shot), but the sheer volume of stuff has definitely diminished.  It encourages me to discover I have actually changed over the years.  It gives me hope that we really can learn how to be organized people.  Here are few of the homeschool room to give you a sense of how much difference there is:
Before, I had stacked stuff everywhere and there wasn't much space to work in.  After, there is so much floor space!  And visually so much less chaotic!  Here is another set of pictures:
Finally, reading through these entries gives me a fresh vision of what it takes to do a huge decluttering project.  It reminds me of strategies I need to use now when I declutter.  It also gives me insight into the areas that I still need to work on.  For me, it is mostly my systems.  Certain things continue to be chaotic because I don't have a system in place to deal with it.  So this will be a focus for the future.
What insights do you have about decluttering?  Anything you would add to the list of advice?