Sentimental stuff.
Your first teddy bear. That favorite book. The cute outfit you had to have.
It's tough to part with sentimental items that bring up fond memories.
Sometimes we hang on to childhood memorabilia because we think we are going to pass it on to our kids or grandkids. But let's be honest: What you found essential, your kids will probably not care about.
Stuff also deteriorates over time: elastic gives out, colors fade, and things get smashed. Sometimes older things may not be safe because of lead. And who knows what they'll discover is unsafe in the future!
So, what can you do?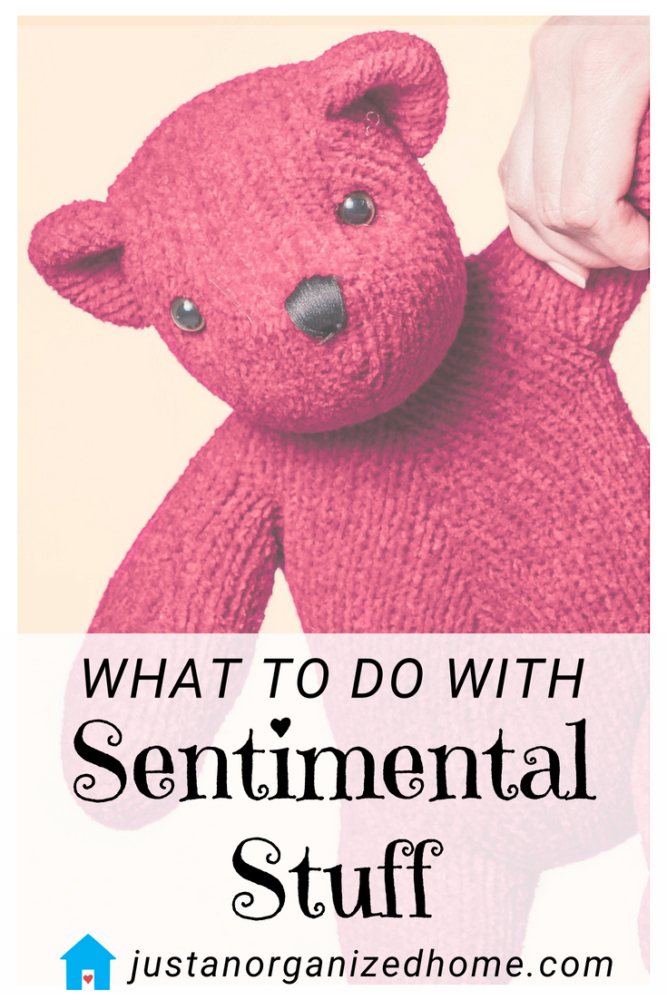 Save it
Really.
It's okay to save a few special mementos. I saved my first teddy bear and one doll that I played with.
Just be picky about how much you save. And if you do save it, make sure you have it where it can be enjoyed. Display it or put it in a special memory box that is NOT stuffed in a storage space.
Give it to your kids
Don't keep "saving" things for someday. Let your kids have it now.
The best thing I kept is an antique doll bed made for my great-grandmother in 1887. Five generations of kids in our family have played with it.
Even though it is an antique and is special, I still let my children play with it because that's what it's for. Yes, it may break someday, but if no one plays with it, what's the point? It might as well be in a museum.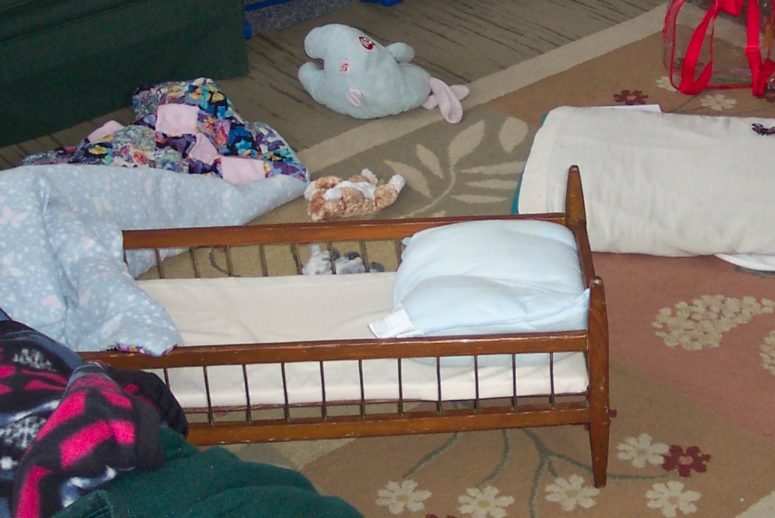 Repurpose it
Of my own kids' toys, I saved Duplo, a Fisher Price barn, and board books. All of these things are timeless toys. I pull them out occasionally when I have visitors with small kids.
Notice that these are things that actually get used occasionally. They are NOT being saved for "someday." They have been repurposed as "guest" toys.
Give it away
For a long time, I kept a pack-and-play and a bunch of toys because I thought I could use them for my grandkids someday. But I finally realized that they would be very out-of-date after 20 to 30 years.
So, I gave them away to people who need them now. Try using freecycle if you want to give things away (or donate nice things to shelters or other charity organizations).
Sort it
If you don't feel emotionally ready to let it go of special items, try this: sort through your sentimental items to see if there is anything that is in bad shape that you know you can toss. At the same time, you may come across a few more items that just don't mean that much to you anymore. Put them in a donate box.
The rest may need to wait for another day, but don't put it off forever! Make plans to revisit the saved sentimental items box at least once a year. More time and a different stage of life can change your mind about what you really want to keep.
Tell the Story
Have a friend help you go through stuff and tell her the stories. Sometimes sharing your memories can bring a sense of closure so you can pass things on to someone else. Rather than keeping 100 stuffed animals, take some pictures, and just save a few of the best.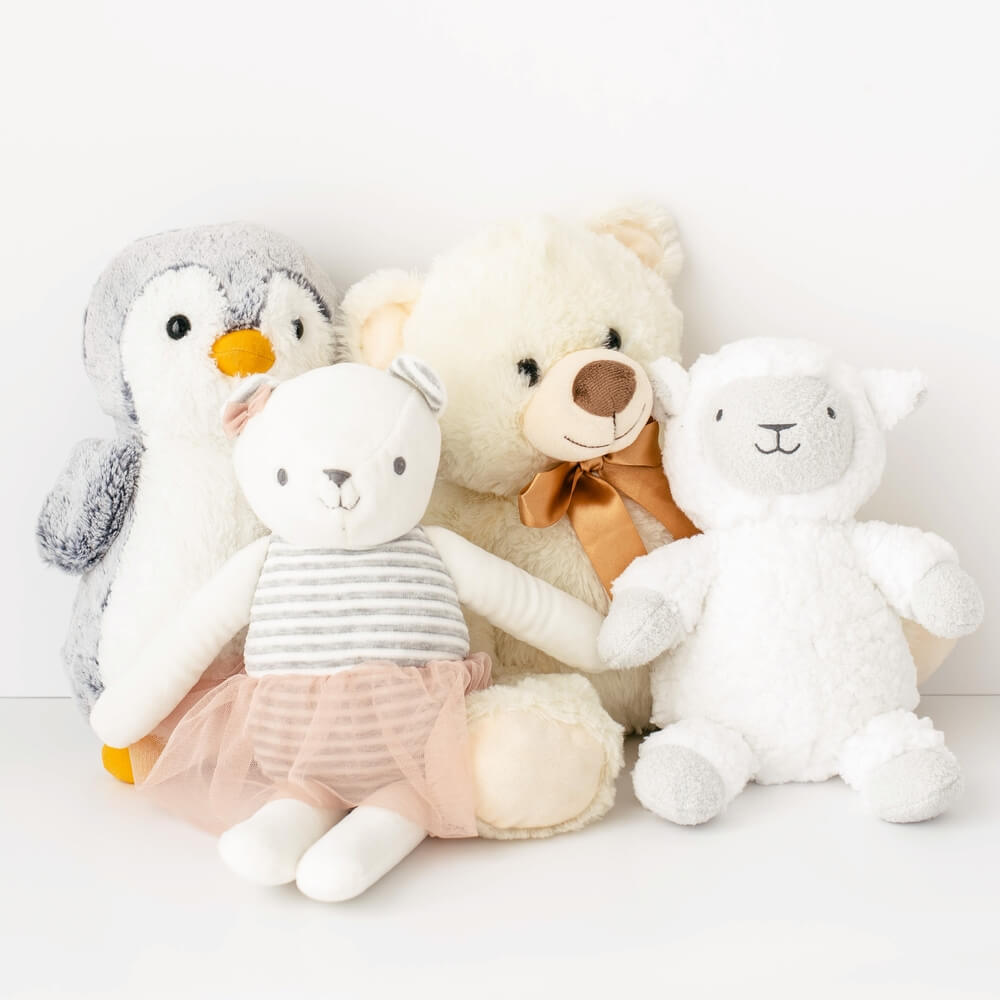 Give it a Place of Honor
If you are going to save something because it has value to you, please find a way to display it. Don't just stuff it in a box. Nothing says "I treasure this" like putting it in a place of honor.
Donate it
So, what can you do with items you decide can go? My best advice is to donate it to others who can use it NOW.
When I was young, our neighbor passed on some Barbie dolls to me when they outgrew them. Talk about excited! When my own daughter outgrew a dollhouse, we passed it on to friends who had 3 little girls.
We pass on kids' clothes regularly because I'm always getting more hand-me-downs. Books can go to libraries or daycare centers. Shelters may take toys.
Cash in
If you have any sentimental items that are truly collectible, cash in now! Sell it and use the money for something that you need in your life now.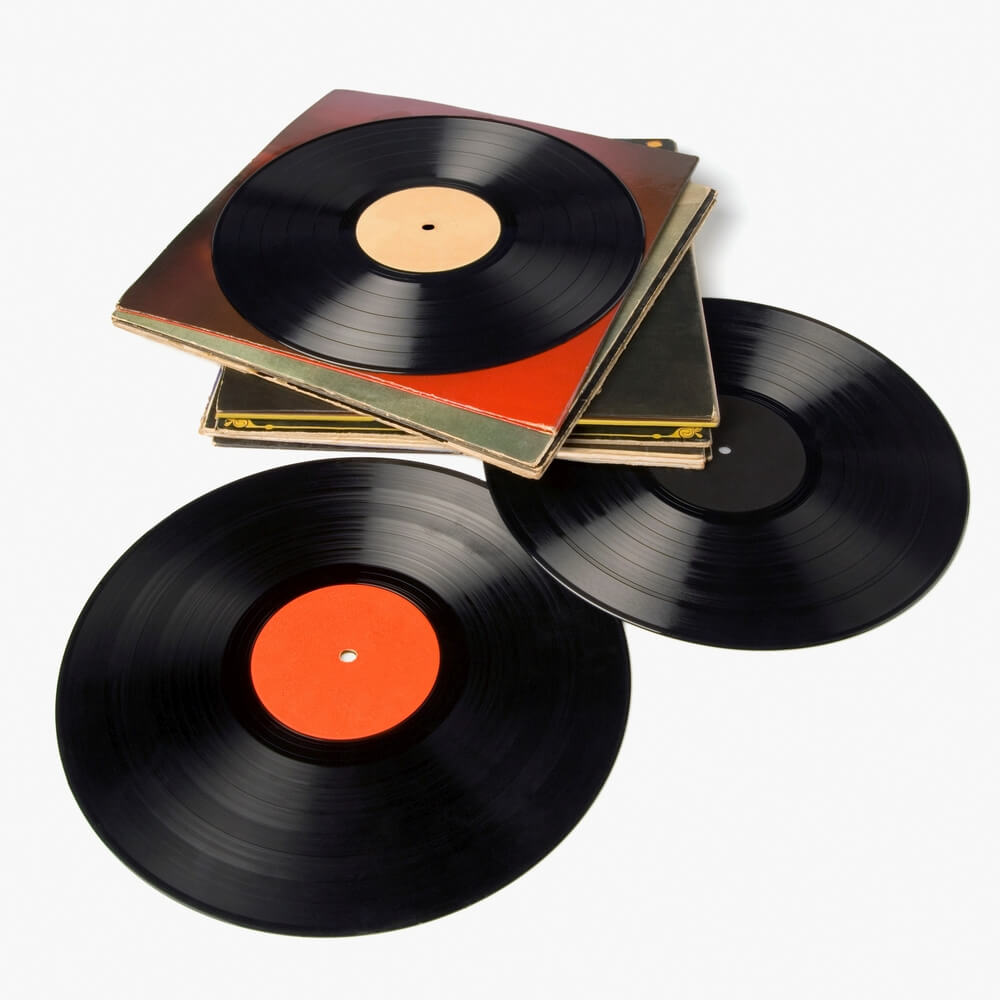 Final Word on Sentimental Items
Remember, your stuff does not define you. If you no longer need something in your life, pass it on. Make room for a new chapter.
Acknowledge that you once loved those things and they helped you create wonderful memories. Now let them go help someone else make memories.
If you need more help with decluttering, check out The Best Decluttering Supply List.