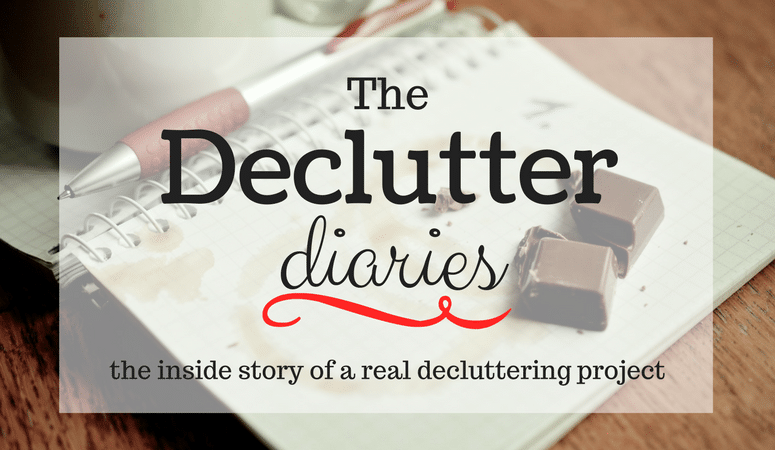 The Declutter Diaries is a series of posts I did for a former blog as a glimpse inside a real decluttering project [with occasional editorial comments from my present self].  You can start with Day One here.
---
Colossal Clutter Cleanup
A year ago I came across a wonderful free resource called the Colossal Clutter Cleanup. [Note: sadly, this resource is no longer available.]  I started working on it a bit and made a long journal entry about how I was feeling about my clutter problems.
10 months later, I came across this entry again when I was lamenting my clutter woes, and realized that I had once again started something without finishing it (a very big problem for me).  If I had persevered with the program I had started then, I could have made tremendous headway and been in a very different place a year later.  [How often I have wished that my Past Self would have done the hard work to get me to a different place today!]
This planted the seed for my current clutter challenge.  Summer seemed like the perfect time to really go for it, so I decided to spend the 90 days of summer doing a clutter challenge.  I printed out this resource and have been using it as a basic plan of attack for my clutter as well as a source of inspiration.
[Note: I mostly used this as a jumping-off point for my own clutter challenge.  I ended up creating my own charts and checklists, so I will be updating some of this information for you, Dear Reader!  I'll let you know when it is available—be sure to sign up for my e-mail list below.]
An Outline of the Program
The introduction tells the story of the author and her struggles with clutter.  Part one consists of an eight-week Bible devotional to work on the heart aspects of clutter.  The second part is the detailed plan of attack for dealing with clutter throughout the house, including checklists for each room.  Part three has various printable pages such as a journal cover, journal pages, an overview of the plan, and so forth.  There is a second pdf file that has landscape printable verses for the eight-week devotional.  There is also a series of eight assignments to keep you on track in using the program.
You can print all of these out and put them into a notebook to use as a reminder and checklist of what to do. [Alas, you can no longer do this.]
Since this resource is no longer available, I will be working to create a resource that you can use in your own clutter challenge.  Sign up to hear when it is available.