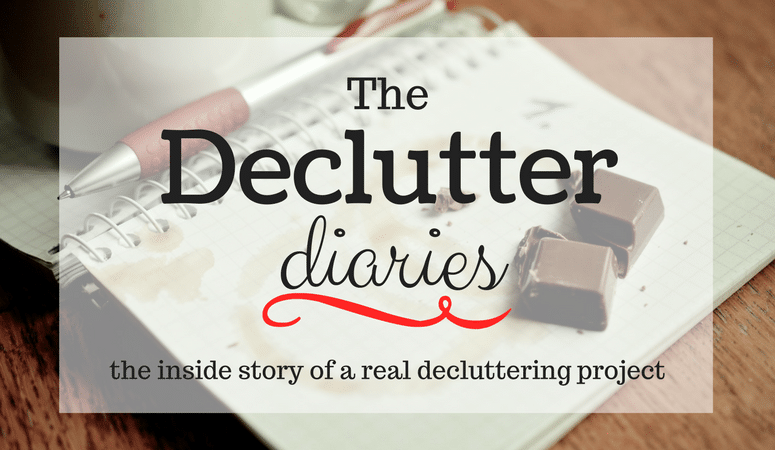 The Declutter Diaries is a series of posts I did for a former blog as a glimpse inside a real decluttering project [with occasional editorial comments from my present self].  You can start with Day One here.
---
[Note: things are rather sporadic at this point.  The last post was at Day 55.  This post is probably somewhere around Day 65.]
It All Started When the Dishwasher Died…
Our house is fairly old and has multiple layers of flooring in the kitchen.  So when the dishwasher finally died two weeks ago, we faced the dilemma of how to remove it (it was sitting more than an inch below "floor level").  After considering the options of tearing up the floor with who-knows-what results or taking the countertop off to lift the dishwasher out of the "hole," my husband decided that maybe we should renovate the kitchen.
What?!  Okay, I'm certainly not complaining!  The kitchen hasn't been touched in several decades other than a few odd jobs here and there.  It's dark, it's cheap, it's old.  Nothing is level, and not everything was "professionally" installed (if you know what I mean).  [It got worse.  We took out a section of counter and discovered there was NO wall behind it, nevermind insulation–just studs.  Seriously?!  No wonder my kitchen was always so cold!]
[Here are some before and after pictures where the dishwasher was.  Things were not quite finished. We had to wait a few weeks for the countertop for this section, so no sink either, and I hadn't painted the walls yet.  But what a difference!]
So we are planning to completely replace all the cabinets and countertops.  This includes adding a section of counter and cabinets that will nearly double my counter space (Yipee!).  We'll probably redo the floor to tear out the multiple layers.  [Another horror story.  The original wood floor had been buried under two layers of vinyl, a layer of 12-inch ceramic tiles, and a layer of "faux" wood.]
[Here are before and after pictures of the "new" counter space and cabinets.]
Needless to say, this was not on my original plan for the 90-day clutter challenge.  We have an amazing amount of work to do for this: measuring, figuring out what will fit, choosing colors, styles, etc.  [Yup.  Remodeling takes a LOT of work.]
Today I spent some time decluttering the stuff on one counter and then chiseling some "faux" brick tiles off a corner bump out.  Fortunately, it wasn't as difficult as I thought it was going to be. I need to quickly get rid of stuff we don't need so I can measure the remaining items.  Then we can figure out what kind of cabinets and drawers we really want to have.
This is my big chance to reorganize the kitchen to be more functional and have better storage.  It's great, but school also starts in a few weeks.  I have so much to do to get ready!  My blog entries may be less frequent.  Still, I intend to march onward in the decluttering project even though it is evident that I will not finish in 90 days.
[Well, as you can tell, this pretty much derailed the decluttering project.  Because I had to remove everything from the kitchen, I DID thoroughly declutter it.  And it was totally worth it in the end.  But all this extra work, plus getting ready for school means there are just a few entries left in the "90-day" clutter challenge.  Stay tuned.]