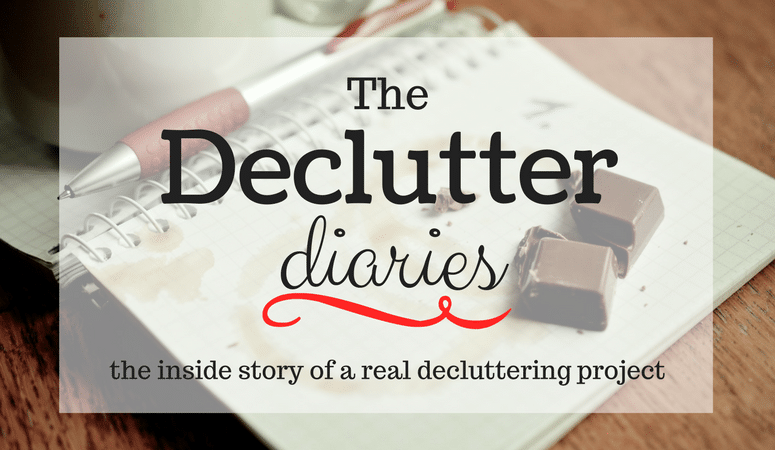 The Declutter Diaries is a series of posts I did for a former blog as a glimpse inside a real decluttering project [with occasional editorial comments from my present self].  You can start with Day One here.
---
[Note: things get rather sporadic from this point forward.  I'll try to label the posts with all the days that are included, especially all the missing days.]
Day 38
Today we spent the day at the beach, so not much decluttering got done.
Day 39
Today was another full day including a doctor appointment, Spanish class and time at the playground.  Tomorrow I will get back on track working on the hallway and entryway.
Day 40: The Battle of the File Cabinet
I started the day back in the hallway with my file cabinet.  Talk about minimal headway!  I barely made it through a couple of files because I got so sidetracked reading stuff I found in the folders!  [Paper and I have a long history.  The lure of printed information is just irresistible to me!]
I'm finding it very tough to let go of valuable information I have collected, even if it is no longer relevant to me.  I keep thinking there must be someone who needs this information.  This evening I actually did find someone who I am going to give one of my precious folders to.  She is thrilled to get the information and I am glad it will go to someone who genuinely needs it.  [This is one of the reasons I struggle with paper.  I am a packrat when it comes to information.]
After thinking about my slow progress with the file cabinet, I think I need a new strategy.  It's too hard for me to go through the files looking for things to throw out.  I think I need to go through them looking for things I want and need instead.  [Key Point!  If you are a paper and information hoarder, you must curate your collection.  Keep what is helping you fulfill your mission in life, let the rest go.]
Tomorrow I am going to try to quickly go through the files and pull out the things that are current and relevant to me right now.  Then I will make a second pass and pull out things that I am pretty certain I will need in the near future or that I am saving for a particular purpose.  That should leave me with things that are probably good candidates for tossing.  I'll put all of these files into a box for future sorting.  [Well, it was a step in the right direction, but it would have been better if I had just tossed the rest instead of saving it for yet another sorting session.]
Pay it Forward
Following the slow-going battle with the file cabinet, I engaged in a bit of "paying it forward."  I spent several hours at a friend's house helping her declutter her office.  It is definitely easier to toss other people's stuff!  Sometimes it's just easier for another person to see ways to organize something that you would never think of yourself.
It was good to take a break from my own stuff and help someone else for a change.  It inspires me to jump in again with my own decluttering projects and make some serious headway.  [It is always good to help a friend, and it may give you some ideas for your own clutter.  At a minimum, seeing someone else's clutter is bound to make you more determined not to let clutter pile up in your house.]