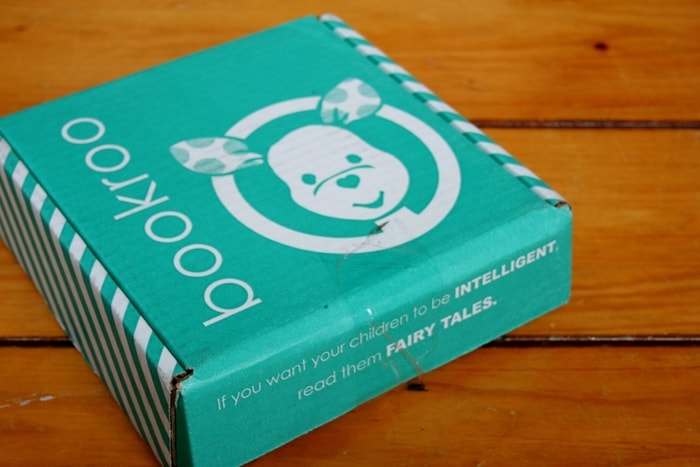 Note: I received one free subscription box in exchange for this review.  The review is my own opinion of Bookroo.
When I was a kid, I can remember waiting by the mailbox with my two brothers every month.  We were hoping to get a certain package in the mail.  In that package was a new book that we could hardly wait for mom to read to us.  We loved having a book subscription!
Fast forward to today and I am taking a look at Bookroo, a monthly book subscription for kids.  In this review, I'll cover my top reasons to pick Bookroo's monthly book subscription box.  You can also watch an unboxing video, and I'll also point out some reasons you might NOT want to choose Bookroo.
Top Reasons to pick Bookroo
No searching
Bookroo puts a ton of effort into choosing quality books.  That means YOU won't be spending hours reading book reviews or the back covers of books trying to find winners.
No taking kids to the store
Have you ever tried to take your tribe of little folks into a bookstore?  Trying to keep an eye on everyone while thumbing through books and explaining why you aren't going to buy THAT book to a pleading preschooler is not a recipe for peace of mind.  The great thing about a book subscription is that the books are delivered directly to your door.  Let's be honest, this is a big reason to choose a subscription to Bookroo!
Introduction to lesser-known books
One of the great things about Bookroo is that they will not be sending you the same top ten books that you can get anywhere.  The books they send are fun and beautifully done, but probably not a book that you already have.
Credit
What if you get a book that you already have?  Good news!  They offer you a credit when you pass the book on to someone else.  How cool is that!?
Gift wrapping
I LOVE that you don't have to pay extra for gift-wrapping.  It's included in the subscription.  Each book is individually gift-wrapped, so if this is, in fact, a gift, it serves as a reminder that it is a gift.  And even if it's not a gift, unwrapping presents is fun and exciting for kids.
Delivered throughout the year
Because the books are spread out over a year, it helps reduce "gift overload" for birthdays and Christmas.  Your gift is going to be remembered and enjoyed months after all the other toys have been forgotten.  Definitely a win!
One-year price comparable to Amazon prices
My frugal self thought that shelling out $200 for books might be kind of pricey.  But when I did the math and checked Amazon, I discovered that a one-year subscription = $5.65/book for 36 board books.  This is very comparable to buying on Amazon without the work of finding the books and remembering to order them every month (or paying extra for gift-wrapping).
Ready to order a Bookroo subscription?
Bookroo unboxing video
Let's take a look inside a box.  In this video, I unbox two different boxes of the baby board book edition of the subscription.  Take a look.
Ready to order a Bookroo subscription?
Reasons NOT to choose Bookroo
So far, all of this seems good, but you might be wondering if there are any downsides.  I really thought hard about this, and honestly, there aren't too many.  But here are some things to consider.
You don't get to pick and choose the books they send you. If you are looking for specific books or you already know exactly what you want, it might be better to do your own shopping.
You might get a book you already have. If you are the owner of MANY books, you might get a repeat. But honestly, with the credit they offer if you give it to someone else, this doesn't seem like too big of a downside.
The books come when they come. You don't get to choose the delivery schedule. This might be a problem if you want books to come at a certain time or for particular occasions throughout the year.
A one-year subscription is not cheap like buying a magazine subscription. You need to be convinced that buying books for kids is a great idea and well worth the money.
You do have to pay for shipping ($5/box). Sorry, this isn't Amazon Prime.
Summary
Pros:
No searching for winners
No taking kids to the store
Introduction to lesser-known books
Credit for a book you already have when you give it away
Free gift wrap
Delivered throughout the year (no gift overload)
One-year price comparable to Amazon
Cons:
No choice of books
Might get a book you already have
No choice of delivery schedule
Not a cheap gift choice
No free shipping
In summary, I think Bookroo offers some unique benefits for a book subscription.  In particular, free gift wrapping and quality, lesser-known books for a price that is comparable to buying them yourself.
Bookroo would make an excellent gift choice for a group baby shower gift (particularly if it isn't the first baby shower), or for a birthday or Christmas gift for a book-loving kid (especially from a grandparent).
Need some more Bookroo gift ideas?  Check out this post.
Bonus:  If you sign up for their newsletter, you can get a discount.
Ready to order a Bookroo subscription?