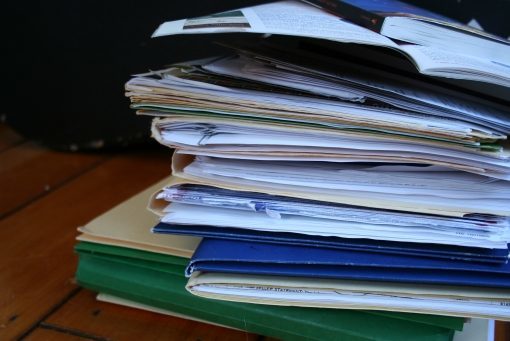 After a detour to the Decision Making Toolkit, we are back to Pile Demolition (see part 1 here). In part 1 I talked about the need to sort out a pile into 2 categories: 1) things that have an action, and 2) things that need a decision. With the help of the Decision Making Toolkit, I sorted the second container into things I definitely want to keep (stays in the container), and things that need to go away (put into a give-away box or throw away). I now have a "Take Action" box (the first container) and another one full of things that I definitely want to keep, but I need to figure out what the action for it is. I also have a box to give-away and a very full recycle bin.
At this point, I found it helpful to get a pad of sticky notes and make some category labels for actions. For instance, I had a label for "file", a label for "fix", a label for "talk to hubby", a label for "return", and so forth. I spread the sticky notes out on the floor and put anything that belonged in that category beside the sticky note. Some of these were easy and obvious—mostly things in the first box. Other things were harder, usually because the item didn't have a home or it was a project—mostly things in the second box.
What's Next?
To take action on my second box, I needed to do some projects that would include making homes for things, like "create home info binder", "make folder", "buy address book."  So, I made project labels with my sticky notes and made more little piles. (Does this begin to sound like the Cat in the Hat trying to get rid of the spot by making one big spot into a bazillion little spots?)  Now if your situation does not allow you to spread out on a big floor with little piles everywhere (like you have small kids or you can't get through it in a single session), I suggest that you get yourself a bunch of file folders (I'm thinking that most of your pile is paper).  Put the temporary sticky notes on the tabs, and find a box that you can "file" in while you sort things out.  Just take one paper at a time and put it in a file folder that identifies THE ACTION you need to take with it or THE PROJECT that it belongs with.
Some of your actions will be one-step things that you need to do like make a call or buy something, and other things will involve multi-step projects like creating a "home" for something or planning an event.  As I went along, anything I could trash went into the recycle bin.  I put non-paper items into two different piles, one for things to put away, and one for things that needed a home.
Some Helpful Advice
Nony at A Slob Comes Clean talks about How to Declutter Without Making a Bigger Mess.  Overall I really like her method because it is a realistic way to make progress when you are just not an organizing machine (let's be real).  Basically, each item is either trash, donate (because you don't need it), or put it away right now.  But I would have to add one other box to her helpful formula: a project box.  There were things in my pile that didn't have a home, so I couldn't put it away, but it was not trash and I didn't want to donate it.  Now her solution is to stop and deal with the situation immediately (i.e., go create the home for it to live in).  But I find that I lose too much momentum if I stop to create a "home information binder" for an address list.  For one thing, I may not have the stuff I need to make the "home."  For another, I would probably have to clean something else out to make a space for it, thus starting another pile before I'm done dealing with the first pile.
At this point, I had a lot of small, labeled piles (or folders) that had concrete, single actions, or were a multi-step project.  I started knocking out the single action items in order of easy, fast tasks first (because I want the win of seeing major progress).  For me, this meant putting non-paper items away first and doing anything that could be done in less than two minutes.  You would be surprised at how many things can be done in less than two minutes.  Things that take longer than two minutes and multi-step projects would have to be tackled another day because I would need to build a system to deal with these things.  Stay tuned.